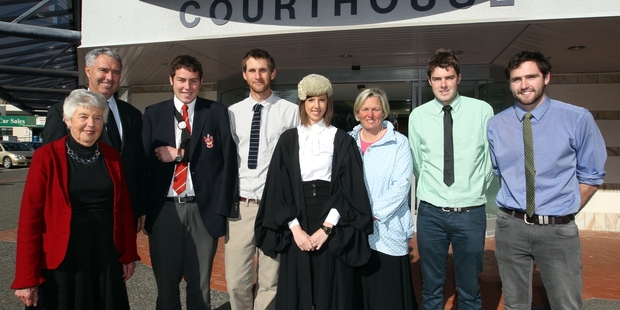 A High Court judge has told a young Hawke's Bay sportswoman her experiences in her teams will serve well in a legal career which took another step forward with her admission to the Criminal Bar in Napier yesterday.
The observation was made as 23-year-old Emma Yule was sworn-in during a brief High Court ceremony, where special mention of her sports involvement was made by Justice Graham Lang, known as not a bad golfer during his days as Crown Prosecutor in Napier.
Miss Yule has represented Hawke's Bay at both hockey and tennis, and in 2011 also ran a classy 1hr 27min Canterbury half-marathon between studies in Christchurch, where she was also in a national champion Canterbury Under 18 hockey team.
Educated for five years at Iona College in Havelock North followed by two years at Rangi Ruru Girls' School in Christchurch before studying law and arts at Canterbury University, she has been back in Hawke's Bay since the start of the year working for Hastings legal firm Bramwell Grossman.
There was no legal fraternity background in the family, however, and with family and friends looking-on from the seats usually occupied by juries, and father and Hastings Mayor Lawrence Yule in a seat usually taken by prison officers or media, the "moving counsel" for her admission was workmate and mentor Samuel Cowan.
"I really liked English at school," she said later, pondering why she had chosen the profession, in which she has established a liking for property law and conveyancing, although she looks forward to defending and representing clients.
Before inviting her to address the Court for the first time, Justice Lang said her sports background would have been important in providing the well-balanced lifestyle necessary to appreciate the varied circumstances of the people she would represent in her career.
He said the work often involves guidance to people about how they run their personal affairs, and the "most satisfying" times would involve being able to help, often in the people's times of greatest need.