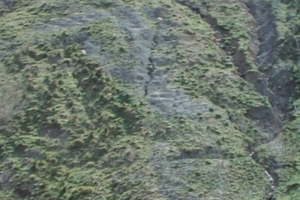 The regional council is beginning to see a link between an improving environment and the controversial One Plan, says the science co-ordinator for Horizons Regional Council.
James Lambie told Tararua District councillors the environmental monitoring and well-being of the region was well ahead of where it was seven years ago
He said the Sustainable Land Use Initiative (SLUI) was one of the most important initiatives for the region, with an accelerated erosion problem in hill country.
About 75 per cent of our region is classified as hill country and it's estimated more than 40 per cent of this land has the potential for moderate to severe erosion. During the major 2004 storm, 200,000,000 tonnes of soil were eroded from unprotected hill country, causing an estimated 30,000,000 tonnes of sediment to enter the region's rivers and streams.
Michael McCartney, Horizons chief executive, said there was a real economic benefit for the region if land stayed on the hills.
"We're putting pressure on the government to stay with us on this (SLUI)," he said. "The agricultural sector is what drives our region and the recent State of the Environment report recognises agriculture is the backbone of our economy.
"And although water quality is showing an improving trend in the Manawatu River at Weber Rd things have stabilised, but at a level we want to be at.
"Back in 2009, the Manawatu River made headlines as the dirtiest river, but that was just spin. The river is in good shape and it's okay to swim in 90 per cent of it, despite what some people say. However, we've still got challenges."
One of the challenges was to find the balance between the economy of the region for communities to survive and the environment.
"Horizons One Plan supports water harvesting. New Zealand isn't short of water, it just falls at the wrong time," he said.
The Tararua District Mayor said another challenge in the region was old man's beard.
"Jack Keast (Horizons environmental management officer) is running around like a scalded cat trying to deal with it, but at Pongaroa old man's beard is shocking in the bush walk and along the river," he said.
"Could you send over a team to have a blitz?"
Mr McCartney agreed one of the key issues for Horizons was the plant pest strategy, old man's beard was in an explosion phase of infestation and was too widespread and dense for Horizons to undertake a successful region-wide control programme.
Control of old man's beard continued to be a hard-fought battle.
Tararua District councillor David Roberts said Horizons state of the environment report was a "good news story".