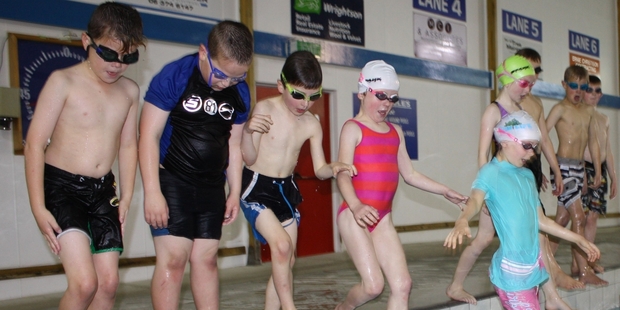 Pupils from St Joseph's School have been swimming for their lives recently.
Children from Years 3 to 6 have been taking part in the Sealord swim-for-life programme organised by St Joseph's sports co-ordinator Rae Larsen. "We were the first school in the community to take up this programme and others have followed," acting principal Megan Seatter said.
'This is an expensive course, but we've been lucky to have three years of funding from Sealord and the children who started in Year 3 will achieve their goals. However, it's a shame we can't continue the programme, but funding has finished."
Mrs Seatter said progress had been remarkable. "The response from our parents has been excellent too. They value what we've been doing. We do have children who don't enjoy swimming and others who lap it up, but even over three days some children who weren't comfortable in the water have made great progress," she said.
Roanne Poi, an adviser with Water Safety New Zealand, said the achievements of children taking part in the programme had been wonderful.
"As well as water safety skills, the children gain self-esteem and fitness. It's absolutely worthwhile," she said. "At one school, children who didn't want their toes to get wet were floating after 10 weeks." However, there was a need for more sponsorship, Ms Poi said.
Helen Collier, a teacher at St Joseph's School, said the programme wasn't just about swimming ability, but equipping the children to survive in the water. "We've had 50 pupils on this programme and we can see the progress they've made. But most importantly, they've learnt what they can do if they get into a difficult situation in the water," she said.
St Joseph's School pupils will also take part in a concentrated two-week swimming programme later in the year.