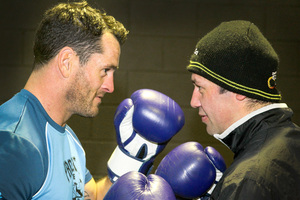 Mention classic Taradale-Havelock North Hawke's Bay premier rugby matches of the past couple of decades and it doesn't take long for Luke Ottley's and Mike Chaffey's names to pop up in the conversation.
When there were situations to be sorted out, Taradale's Chaffey and Havelock North's Ottley were among their respective team's go-to blokes. The pair will have the opportunity to sort each other out when they meet in one of the fights at the Hastings Pak 'N Save Battle for Life Charity Boxing event at the Hawke's Bay Opera House in Hastings on September 21.
It will be their first boxing bout.
"We used to do boxing as part of our pre-season training with Northland but there was never any sparring," former Northland and Hawke's Bay rugby representative Ottley said.
Chaffey, 38, and Ottley, 35, first met when they were in the Hawke's Bay Sevens training squad together in 1995.
The pair, who are both builders, are well known for their mongrel on the paddock and have recently recovered from injuries - Ottley a knee injury and Chaffey his problem back which forced a switch from his hooking role to the loose forwards in 1999.
"Everyone knows how competitive we both are ... I'll be looking to hit his sore knee and Luke will be aiming to punch me in the back," Chaffey quipped.
While both are expected to weigh in around the 95kg mark Ottley will have a four- centimetre height advantage.
The Ryan Whittaker-trained Ottley is following former Havelock North teammates including Graham Hawkins and Andy Barham into the ring and like the Dan Digby-trained Chaffey won't be short of support.
"Aaron is encouraging everyone at the rugby club to buy a table and come and watch me get taken out," Chaffey said referring to fellow former Magpie and Taradale rugby player Aaron Hamilton.
An eight handicapper at golf, Chaffey, said he is enjoying the training and if the fight goes well he may become a regular on the charity boxing circuit. Ottley said the aerobic aspect of the training for the three two-minute round bout is tough compared with rugby trainings but he is relishing the benefits.
Event organiser Patrick O'Brien is thrilled the fourth annual BFL will proceed after fears last year's one may have been the last because of a lack of financial support. In addition to Pak 'N Save coming on board as the major sponsor, the Sport Hawke's Bay-sponsored Blue Team will support the Prostate Cancer Foundation of New Zealand and the Raisey's Original-sponsored Pink Team will support The New Zealand Breast Cancer Foundation.
O'Brien, the 2012 Ngati Kahungunu Sports Awards Administrator of the Year award- winner, will take on Hawke's Bay kickboxer Shaun Rankin in one of 10 confirmed bouts.
Hawke's Bay's Pane "The Punisher" Haraki will take on fellow world champion kickboxer Mike Angove of Auckland in the feature fight. Angove has battled cancer in the past.