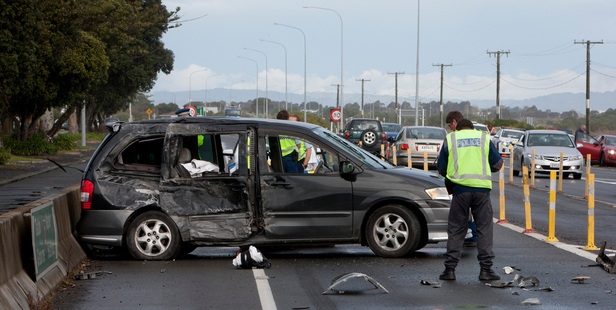 A 4-year-old girl was critically injured and three others taken to hospital after a car collided with a logging truck at the entrance to the Hawke's Bay Airport yesterday.
Police said the crash at 1.15pm happened after a car pulled out of the airport entrance and collided with a fully-laden logging truck heading north along Main North Rd in Napier.
St John district operations manager Stephen Smith said when paramedics arrived the girl was in a critical condition with severe head injuries.
"Unfortunately the car was completely t-boned at the intersection on the driver's side where the girl was sitting and where she was took the majority of the impact.
"Her mother had chest injuries while the other two passengers had minor injuries. The paramedics' concern was for the child," he said.
"The child was in a car seat which has probably protected her. Yes she had sustained critical injuries but no doubt it would have been much worse had she not been in a car seat."
Mr Smith said this was an example of how a properly restrained child in the appropriate car seat can help stop further serious injuries and potential save lives.
Police said the car's female occupants were all taken to Hawke's Bay Hospital. As well as the girl there were two women in their 30s and one in her 60s.
The truck driver was uninjured but was badly shaken.
A hospital spokeswoman last night said the girl was in a serious condition but the others were to be discharged.
The driver of the car had just picked up relatives at the airport and was going home when the crash occurred.
Police confirmed they were Hawke's Bay locals.
Road safe tactical response team acting Senior Sergeant Jason Bryant said a full investigation would take place and said police at the scene were concerned for the well-being of the child.
"The vehicle has pulled out of the airport driveway and been hit by the logging truck, at this stage we just want to ascertain how serious the injuries are to the passengers before we begin a full investigation," he said at the scene.
The police Serious Crash Unit is investigating the crash.