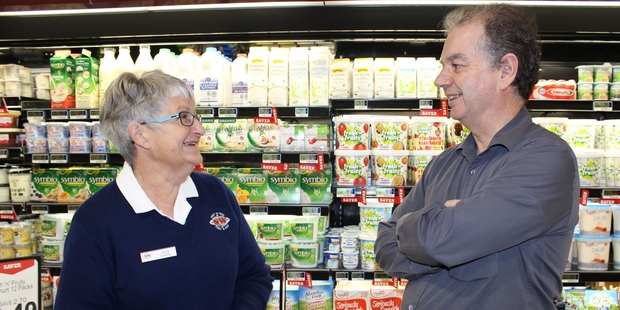 The time is right Dannevirke's Julia Cushing reckons as she retires after 34 years working at the New World supermarket.
During her time there, Julia has seen massive changes with the supermarket growing from a small store, in what is now the storeroom, and two new premises, the latest opening in December last year.
"I've worked with three owners too, Mike Olsen, Bob Henry and now Garry [Hasler]," Julia said.
"But it's these new premises which have been the biggest change. They're fabulous and I've loved working here."
While the prices of products on the shelves had risen, along with wages, the one thing Julia has made sure didn't change was her customer service.
"I enjoy meeting customers and helping them," she said.
"Some of the same customers I served 34 years ago are still coming through the doors and I've seen their families grow up."
Julia began work as a night filler, working 5-9pm in the days when the supermarket closed at 5pm and had just one late night.
"I then moved to shelf filling in the day time, then to the deli and now I work in the cold shelf department," she said.
Technology has been one of the big changes in the supermarket, which employs 120 people, including a couple who have been with the business for a long time. "Thirty-four years ago everything was priced manually with a price gun," store owner Garry Hasler said.
As Julia reminisced with staff last Friday, it was the earthquake prior to the Mother's Day quake in the 1990s which stands out in her mind.
"It was the big one," she said.
On Friday, dressed in her old uniform from back in the days before the second supermarket building opened, Julia was clinging on to all the good memories of her 34 years.
"There were no tears at my farewell morning tea, but I'm not so confident of walking out the door dry-eyed," she said.
"But like everyone else I've got to get groceries, so I'll be back to catch up with everyone."