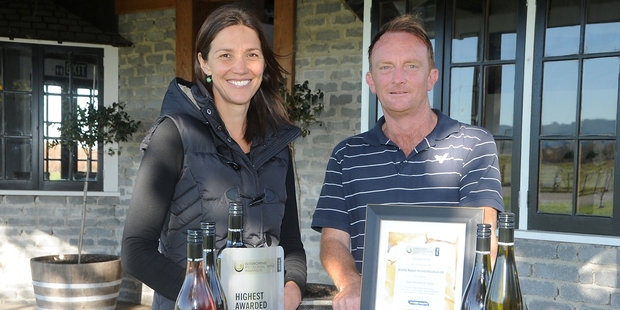 Has it been six years? Really? When I first met Kirsten and Richard Searle they were a young couple bursting with nervous excitement, having just taken possession of the Matawhero Wines in Gisborne.
It was 2008, they had three babies, a whopping mortgage, a rundown and rambling wine estate and wide-eyed dreams for the future.
Fast forward six years. The property has snapped back into shape, the house and cellar door look positively classy, there's no more need for pushchairs and nappies and Kirsten and Richard are finally being rewarded for six years of hard graft with a stack of medals and trophies at the fourth annual Gisborne Regional Wine Awards.
The winery, which began life in 1975 under the colourful control of Denis and Bill Irwin, scooped the trophy for the highest awarded wine company, plus gold medals for its 2013 Pinot Rose, 2013 Church House Arneis, 2013 Church House Chenin Blanc and 2013 Church House Albarino.
They also collected class wins for the pinot rose, arneis, 2013 Church House Malbec and 2013 Gisborne Chardonnay, and they scored best new white varietal with the 2013 Church House Albarino. To really put the parmesan on the pasta, Matawhero's company viticulturist Jeremy Hyland won the lead viticulturist trophy.
Gisborne isn't the easiest place to grow grapes and not for the fainthearted. It's paradise one season, purgatory the next and it takes incredible skill, flexibility and tenacity to create good wine year after year. That's where Jeremy's talent has really turned Matawhero into a supreme team. Originally from Gisborne, but now heading a wine consultancy business based in Marlborough, Jeremy started his career at Corbans in the early 1990s before becoming head viticulturist at Kim Crawford in 2004. Now, in addition to Matawhero, he is also a consultant for Astrolabe, Jules Taylor and Eradus. One thing's for sure, he knows how to get the best from Gisborne's ground and weather.
Gisborne is an El Dorado for emerging varietals such as arneis and albarino and has serious pedigree with classics such as chenin blanc.
The Matawhero 2013 vintage was an absolute stunner and their Church House Malbec 2013 won top of class.
"We knew this parcel of fruit was special from the moment it entered the winery, with its lovely inky colour it oozed ripeness," Kirsten said. "We wanted to showcase the fruit's pure varietal expression, hence producing a straight malbec."