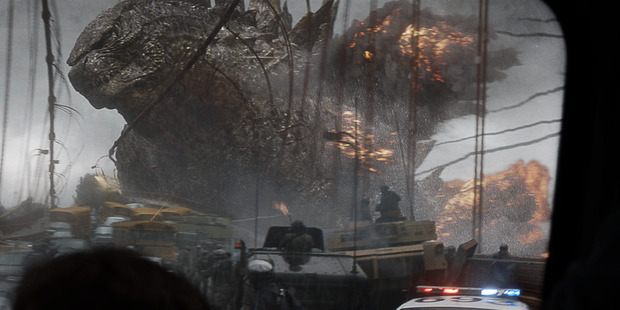 He's the king of monsters, a giant reptile from the sea, a pop-culture icon, and a big part of movie history since the mid-1950s. You guessed it, Godzilla is back.
The newest remake of the story, created by indie director Gareth Edwards, starts in a mine in the Philippines where scientists make an unusual discovery.
We then move on to Tokyo, where engineer Joe Brody (Bryan Cranston) and his wife Sandra (Juliette Binoche) work at a nuclear plant.
A day at the office quickly goes wrong. Sandra takes a team deep into the plant to investigate unexplained seismic activity. A huge explosion is coming, and Joe is forced to make some tough decisions.
The movie skips 15 years, and we meet the couple's son, Ford (Aaron Taylor-Johnson), who has grown up and is working as an explosives expert for the Navy. Although he'd rather spend time in San Francisco with his wife Elle (Elizabeth Olsen) and their nearly 5-year-old son, he travels to Japan to help out his dad.
Joe has a point to prove, and can't let the past rest.
He is arrested after venturing into an exclusion zone, and that's when things take another dreadful turn.
Not wanting to give too much away, the film then takes the viewer on a rollercoaster across Japan, Hawaii and the United States.
Although there's plenty of action, excitement, explosions and carnage galore, I found it hard at times to make sense of the storyline.
Some elements were downright farfetched, but that's okay. Estimated to have cost $US160 million, this big budget remake somehow kept its B-movie feel.