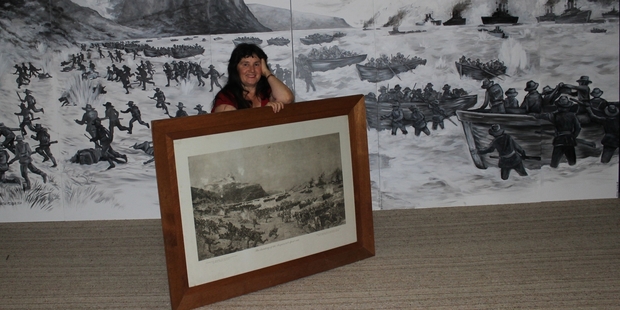 For Woodville artist Bettina McCulloch painting panels depicting the Gallipoli landings was a sombre commission, but one she's proud of.
"I was asked just last week to paint these massive panels by the group involved in the exhibition being staged by the Woodville Pioneer Museum," she said. "Although I enjoyed the artistic side of the work, it was very, very sad drawing dead soldiers. I realised so many died needlessly during World War 1."
Ms McCulloch used black and white and gray tones to reflect the original painting owned by the pioneer museum and she hopes her panels can remain in the town as a record of the exhibition, which opens on April 11.
After the success of last year's exhibition, Woodville - the War Years, a small group of volunteers applied for a lottery grant to stage Woodville - Remembering WW1, as part of the 100 years commemoration.
"Because last year's exhibition was such a huge success, we put in an application and were lucky enough to get $15,000," Paula McCool of the Woodville Museum said.
"The Waireka Trust contributed money for materials and we'll be putting together an even more ambitious exhibition than last year."
There are three parts to the commemoration of the district's World War 1 soldiers, including a website with all the soldiers names and details.
"There are about 400 Woodville men listed as serving in World War 1 and, although still in its infancy, the website is up and running," Mrs McCool said.
"The second element is a film made by Chris Murray, son of Woodville's Gerard Murray, who will be talking to the relatives of our town's war veterans. Last year's DVD by Chris was wonderful and we're expecting even more this time."
The third element is an evening of film and readings from letters and postcards from local soldiers at Pahiatua's Regent Theatre. "We'll have school children, dressed as old soldiers, reading and it will be an evocative evening," Mrs McCool said. "There are some incredible stories to be told through the readings and the exhibition, which will be held in the Ruahine Lodge Hall in Ross St in Woodville,"
For Mrs McCool and the small museum team, there has been much to organise for the exhibition and there's still a lot to do. But it's not only the organisation and planning that are connections to the exhibition - her grandfather, Daniel McCool, signed up in Makuri in 1914 and secured a ballot block of land in the district after the war. "My grandparents had married in 1889 in the Catholic Church here in Woodville and Daniel was one of two grandfathers who went to Gallipoli," she said. "We wanted to keep our commemoration local because it will have more meaning for residents. It's much easier to imagine what the soldiers went through when there's a family connection."
Others who went from Woodville to World War 1 include Annie Westoby, a nurse, and RJ Cairns, a soldier in the cycle corps killed on Messines Ridge. Both will feature in the exhibition.
Professor Norman Cook, a professional design artist, is also involved again this year and Chris Murray's brother who lives in Turkey has taken 200 photos at Gallipoli, some of which feature memorials inscribed with Woodville names.
But museum volunteer Bruce Hutton wants more memorabilia before opening day. "There's a desperate shortage of things from World War 1 around here and if anyone has something that would be wonderful," he said.