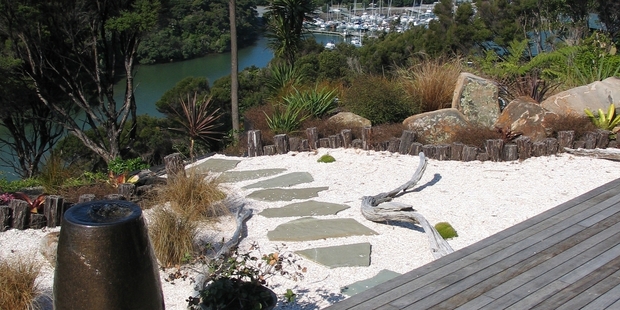 It's astonishing how long an argument over the positioning of half a dozen pavers can last.
The Landscaper and I have been redoing our front path and the entranceway to our courtyard, which has necessitated the realignment of a few pavers.
Of course, there's nothing so simple as "the realignment of a few pavers" at our place. A realignment of anything can quickly turns into a revamp, which then leaks into other areas of the garden and becomes a redesign.
Our argument in this instance concerned whether the pavers inset in pairs into the path should be aligned to the paving stones in the courtyard, or to the adjoining terrace, or both, or neither. The impossibility of getting everything to match forced us to think laterally and introduce random elements to the design. So the courtyard paving stones and the terrace pavers are now linked by those of a different size and texture, set in a single, meandering line up a path that defies any alignment whatsoever. Perfect. Why did one of us not think of it before divorce was imminent?
It's an indication of how paving styles have changed over the years. When I was a kid there was really no such thing as paving: you had grass, or you had concrete.
When paving finally came along, following a flirtation we had in the 80s with patios and paths of second-hand brick patios, we paved large areas, choosing from a limited number of patterns such as herringbone, diamond and basketweave. The more adventurous among us even paved in two colours or used a contrasting size for a border. Pavers were usually clay or concrete, although the fabulously wealthy sometimes used stone.
Today we can choose from clay tiles, stone, sandstone, concrete embedded with shells and stones, ceramic tiles, decking pavers, granite, slate and more. But it's how they're laid and what other materials are used that make it interesting.
Mixing your paving with other ground covers, be they organic or inorganic, will give you a more individual look, and if you're eco-conscious, you can organise your new terrace or pathway to incorporate permeable areas to avoid urban runoff. Two birds with one stone.
The mix-and-match principle is also useful for marrying odd levels or changes of direction together. Instead of trying to make two separate areas of pavers align, separate them with a bridge of decking timber, or put a curve or a turn in to hide a less-than-perfect transition. When all else fails, put a pot plant in front of it or grow a little ground cover that'll spread out over the problem area.
If you're planning to use a professional to lay your path or patio, have your design sorted, otherwise it'll cost an arm and a leg and it's more than likely your paving man won't be speaking to you by the end of the job.
But if you're doing it yourself, be prepared to spend a lot of time and have a lot of fun choosing the materials and shifting them around until you chance upon a composition that lights up the garden.
Just cut along the dotted line
If you're not up for something completely informal, give a path or a set of steps an original look by adding wider bands of paving through the design.
If you need a pathway to the summer house, choose big pavers and lay them in a meandering pattern through the lawn. A winding path means you don't have to spend a lot of time with a tape measure, spirit level and square. The only requirement is that the spacing between pavers suits the length of your stride, and that they're set just below the level of the lawn so you can mow over them.
Lay your pavers in a completely random style, leaving gaps for plants or small garden beds. Pave around trees (leaving space for the rain to reach the roots), and inset big rocks in the pattern.
It doesn't get much more random than this, with grass, sand, pavers and mulch pulled together by a well-thought-out colour scheme.
Old bridge timbers or railway sleepers can be laid as paving, and look particularly good alongside water. They're so irregular that they'll never be level or square, so you're relieved of that responsibility.