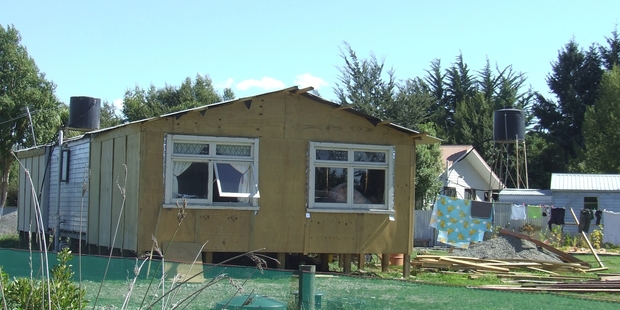 They are talent quests with hard hats - cooking shows with hammers. The pursuit of home renovation, angled of course to entertain an audience.
I find no entertainment, solace or appeal in scrubbing walls, undercoating them and spilling paint over carpets and breaking things - which is what happens when I turn my hands to things my hands were not made for.
I have no hesitation in confessing that I am not an HH (home handyman, or handyperson or whatever) and possess rudimentary skills which were honed during the disaster years of woodwork at school.
At our first house, an old cottage built in the early 1920s, I decided to remove the quaint old "safe" built into the side of the kitchen wall which was used for storing food and drink and things.
A nod back to the times when refrigerators were literally ice boxes ... boxes filled with ice. So they used the cooler airs of the outside world to keep stuff like bread and cereals sort of safe ... in the safe.
So anyway, it was redundant thanks to our large lodger by the name of Kelvin Ator so I figured it would be a good place to make a window.
I measured it and went off to the second-hand building yard where old doors and frames were lined up for sale and found a square window which would fit.
Sort of.
It was a few centimetres out but hey, a couple of strips of wood would see that right.
So off came the safe, which had jutted out toward the neighbour's driveway, and in went the window.
It didn't really fit, and I told my wife the measuring tape was dodgy.
She mentioned something about "getting someone round" but I perservered and, by the end of the day, it was all in place.
Whoever invented filler should have been knighted.
And okay, it was on a bit of an angle and there was a slight crack in one corner of the glass as the jarring from the hammering took its toll, but all in all it looked exactly like something someone with serious renovation skill deficiencies would have been proud of.
Anyway, the curtain we put up over it looked a picture.
It's like anything though ... you've got to give it a go.
I like to paint because I like the smell of turpentine when it comes time to wipe the splash effects from the carpet.
It's a Kiwi thing ... give it a go mate.
Which I guess is why home renovation competitions and shows in general are staking their own place amidst the landscape of cooking shows, fishing shows, talent shows and travel shows.
Crikey, all we need is for Come Dancing to return and she'll be all on.
The Kiwi Dream, Prime at 7.30pm Friday: Yes I suppose it is the Kiwi dream to renovate an old run-down house into a stunning and appealing home - although actually being able to buy a house in the first place sort of rules that pursuit out for many. Here we have the first part of a six-part series about how a crew of skilled doer-uppers go about completely refurbishing a slightly tatty old bungalow on the coastal fringe of Auckland. The highs and the lows, and the usual cost overruns. I guess it's valuable to the less inclined if they show you how to put a window in ... without the addition of two tubes of wood filler.