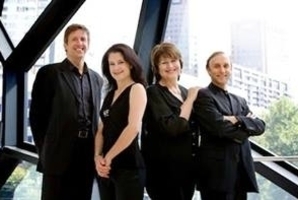 Immensely popular on both sides of the Tasman, the Goldner String Quartet - violinists Dene Olding and Dimity Hall, violist Irina Morozova and cellist Julian Smiles - together with pianist Piers Lane will be in Hawke's Bay this month for a concert in the Century Theatre, Napier, at 8pm on Saturday, September 28, as part of the 2013 Kaleidoscopes Series for Chamber Music New Zealand.
The Goldners have won numerous accolades for their recordings that include Gramophone and BBC Music magazine's editor's choice.
The programme will feature the Quartet in A minor Opus 13 by Mendelssohn, a new work, Te Tai-O-Rehua, by New Zealand composer Gareth Farr, and, with Lane, the performance of the Piano Quintet in F Minor by Cesar Franck.
Te Tai-O-Rehua (The Tasman Sea) reflects upon the turbulent body of water that separates New Zealand from Australia.
"I intended to write a happy and joyous piece because that's the way I feel about my relationship with Australia as a New Zealander - particularly after being composer in residence for the Australian Music Centre in 2005 - but the music came out dark, mysterious and edgy," Farr says.
With the reopening of the museum, this will be the first ChMNZ concert back in the familiar surroundings and the magnificent acoustics of the Century Theatre.
The Goldner String Quartet has widespread and long-standing recognition for excellence, as not only Australia's pre-eminent string quartet, but also as an ensemble of international significance, favourably compared with the best in the world.
In 1997, the quartet made its debut at the Wigmore Hall in London.
Unanimous audience and critical acclaim has ensured the quartet's regular return invitations to London and many major UK, European and Asian festivals.
In 2001, the quartet made its American debut with concerts in New York and Washington DC.
Closer to home, the Goldner String Quartet has performed in Korea, Singapore and Brunei and has undertaken several extensive tours of New Zealand.
Lane has a flourishing international career, which has taken him to more than 40 countries.
Five times soloist at the BBC Proms in London's Royal Albert Hall, his wide-ranging concerto repertoire exceeds 80 works and has led to engagements with many of the world's great orchestras.
Tickets from $40. Book through Ticketek 0800 TICKETEK (842 538), visit ticketek.co.nz or find out more by visiting chambermusic.co.nz