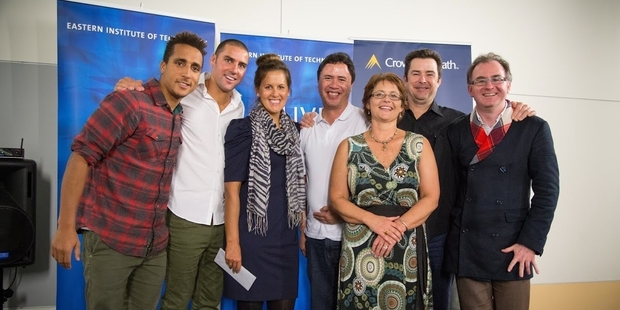 Hawke's Bay took an important stride in Silicon Valley's footsteps after a successful inaugural Startup Weekend.
An impromptu team, formed from a new idea, won first prize from a strong field.
Startup Weekend is a global network of entrepreneurs encouraging people to work together to solve problems through new tech-base enterprises. Over a weekend business ideas are shared, teams formed and new companies launched.
Winner Agrisafe was one of 16 ideas pitched on Friday night at the EIT venue. Those 16 were culled to six business ideas developed by teams over the weekend. Agrisafe provides tools for driver safety, aimed at primary industries.
A driver simulator app was developed as well as a web application to support learning modules, so employers could show they had taken all reasonable steps to educate staff.
"Quad bikes don't scream danger," judges were told at the final pitch on Sunday evening, "yet there were over 800 quad bike- related serious injuries in New Zealand alone".
"Often agricultural accidents are a direct result of complacency in the workplace and lack of formal training in situation awareness."
Judges said the team had a well-planned business model and the best chance of success with "all sorts of opportunities for extending into other areas".
The team won a $10,000 Trade Me advertising package, three months of Inc and Co shared workplace valued at $3000, an $1800 Crowe Horwath accounting financial forecast and the first module of the start-up hatchery from Icehouse Hawke's Bay, valued at $1500.
Agrisafe spokesman Steffan Kelly said the team had skills and experience from law, finance, accounting, management, marketing, web design, videography, editing and the sciences.
"Agrisafe's varied skills and personalities collaborated extremely well at the weekend to develop an idea into a validated business case," he said.
"The Agrisafe team are incredibly thankful for the valuable time and effort that the mentors and all staff involved in Startup Weekend Hawke's Bay put in.
"We want to encourage all budding entrepreneurs to participate in a Start Up weekend if they ever get the chance."
Many attendees were in their early 20s.
Weekend coach Wayne Baird said he hadn't been convinced young people had the entrepreneurial drive and resilience to succeed in business "but they way they worked their arses off convinced me otherwise".
Judges sad it was no empty cliche that the standard of finalists was high and made special mention of People's Choice winner Planme, an online one-stop-shop for comparing new house plans. The judges said Planme did an excellent job in defining the channel to market and created a "gorgeous app".
Other teams were Keepme SAFE, an app tailored for communication to cope with civil emergencies; Adventurers, an app that encourages children to exercise with digital devices by triggering events when they enter a GPS co-ordinate; CropHawk Systems, an aerial drone for crop management and bird scaring and Idea Bubble, a website for communicating business ideas from employees to senior management.
Startup Weekend organiser Gareth Pearce said the enthusiasm and high standard of finalists was proof that innovation existed in Hawke's Bay.
"Plenty of talented people live in the Bay, many with great ideas that can easily be commercialised and sold into international markets with the right support.
"Startup Weekend 2014 is only the start of building the innovation ecosystem within Hawke's Bay."