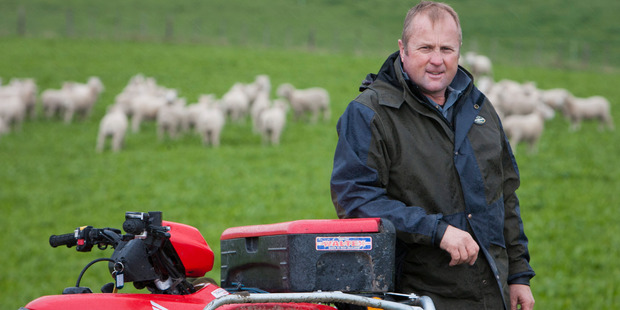 A CALLOUSED Waipukurau hand is smoothing the way for one of the world's biggest trade deals.
Waipukurau farmer Mike Petersen is a special agriculture trade envoy, advocating for New Zealand's farming interests from the perspective of a practising farmer.
He was appointed last year by Trade Minister Tim Groser and Primary Industries Minister Nathan Guy.
"It is quite a unique role - I haven't found another country that has a position like it," Mr Petersen said.
"I work in the five sectors of dairy, meat, wool, horticulture and wine. In each of those five sectors I am tasked with getting producer groups in other countries onside with New Zealand's trade aspirations.
His counterparts are farmer unions and he tells them the story of New Zealand's agriculture success, despite it being the least subsidised OECD country.
"I spent a lot of time trying to get a common view around trade and the agricultural space."
His primary focus is the proposed Trans-Pacific Partnership free trade agreement (TPP).
"I am not a negotiator but I always attend the ministerial meetings of the TPP. The negotiators have just been in Ottawa. I haven't been to that meeting this time round, but certainly spend a bit of time on the TPP."
The controversial agreement is being negotiated by: Australia, Brunei, Canada, Chile, Japan, Malaysia, Mexico, New Zealand, Peru, Singapore, United States and Vietnam.
The TPP has drawn protest action in Hawke's Bay and across the world, primarily because of the secrecy surrounding the talks and controversial clauses in publicly leaked drafts.
Most concern regards intellectual property, the cost of medicines, climate change, e-commerce and labour laws.
Mr Petersen said New Zealand would not make major sacrifices for access to member markets, which represent about 40 per cent of world GDP.
"It is suggested that for better market access we will give anything away, but that is simply not the way of the talks.
Our negotiators are focused on a really good outcome for New Zealand and not just the agricultural sector. I am entirely confident that New Zealand won't agree with any deal that means we are effectively selling our soul, giving up [state drug-buying agency] Pharmac or any of those sensitive issues."
He said it would unlock doors for the whole economy even though New Zealand would be competing with other TPP members.
"The cold reality is New Zealand will never be able to negotiate a meaningful bilateral free trade agreement with Japan - we have nothing to offer. We have no tariffs or barriers, so that would never happen. But under TPP we can work with the other 11 countries to try and convince Japan to look at the deal. We have a lot of friends who are all looking to gain access to Japan and if we can combine our efforts then there is a far greater chance of getting there."
He said success with the China free trade deal was making New Zealand's complacent.
"We need access to a wide range of markets if we are going to have a prosperous future for agriculture because different customers have different values, so we can't afford to be reliant on just one market.
"We have had that in the past, with sheep meat into Europe and the UK. We do not want to go there again."
He said resistance to New Zealand exports because of food miles had eased.
"It is largely gone from the UK, where it was quite strong, but has been replaced with a buy local campaign. It is similar but it doesn't have the nonsensical argument of food miles. The consumer driving 5km down to the supermarket used more energy than shipping food halfway round the world.
"But there is no doubt that sustainability and environmental issues like carbon footprints are increasingly becoming barriers to access in the markets."
He said despite all five agricultural sectors represented in Hawke's Bay it did not cut down his travelling - all had their head office in the main centres.
"I'm very lucky I have a wide range of contacts around New Zealand and offshore that I have used to best advantage."
The contacts were garnered during his 10 years as Beef + Lamb New Zealand chairman, a role he stood down from in March. The new role means he can spend more time on the farm.
"The Beef and Lamb role was almost full-time but it shouldn't have been - farmers always expect to be able to talk to their elected representative. It was very much hands-on and there was something every day that you had to put your mind to.
"The special envoy role is meant to be about four trips offshore a year, of about two weeks each, and there are onshore commitments as well."
On Monday he met with the UK Minister of State for Trade and Investment in Auckland.
"It really does have resonance when you are in front of people like Lord Livingstone, who knows that you are a farmer and tomorrow you will be back on the farm. It brings things down to earth."
He said co-operation with United States farming groups was "not as hard as you'd think".
"America's exports are growing rapidly, at a far greater rate than New Zealand. It will be the big beneficiary of world agricultural trade reform, there is no doubt about that. Their exports in dairy alone have grown about 30 per cent per annum - phenomenal. They will be exporting as much as New Zealand does before too long."
He said he received guidance on where to target his efforts from industry groups and the Government.
"There is also my view about what I think is important and where to direct the efforts, so it is a team effort.
"There is a trip planned later in the year to Europe and I have been able to give some quite good advice on where the touch points are."
Primary Industries Minister Nathan Guy's number one priority is bio-security but Mr Petersen says it should be number two.
"When you assess risks you are meant to look at the potential impact and the likelihood of it happening. When I look at bio-security, if it happens it is massive but the likelihood of something happening is less - we have pretty good protection in place.
"Food safety has become the number one issue throughout Asia, so that is the thing that worries me. If there is an issue it effectively trashes New Zealand's reputation. We can't afford to do that - it is so crucial. I see that as our number one risk area."
He said his role was a lot more than mere lobbyist. "I don't want to be demeaning to lobbyists but it is a bit more meaningful. You are not just lobbying for the sector, you are working with people for meaningful outcomes. If we get TPP through I see that as far more than just a lobbying effort - there are very real gains for the agricultural sector.
"There is a lot of diplomacy, there is a lot of relationship building, there is a lot of using relationships to try and get your point of view across and get those points of view agreed.
"So there is a fair bit of talking that needs to be done from time to time, but I seem to get through it all right."
He said the role was exciting. "I have always taken a keen interest and have been quite closely involved in agricultural trade. This allows me to do that over five sectors instead of just the one."