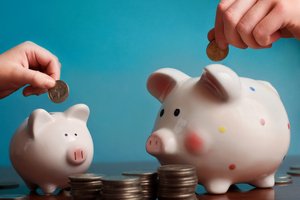 Q. I have been contributing to KiwiSaver since 2007 and would like to apply for the First Home Deposit Subsidy. My parents have given me a section and I would like to build on it. I am single and earn $53,000 per year. Will I qualify for the subsidy?
A. The First Home Deposit Subsidy is run by Housing New Zealand and provides up to $5000 for eligible applicants to buy or build their first home. This money does not have to be repaid as long as you live in the house for at least 6 months. You can't use the subsidy to buy or build an investment property.
The subsidy is available to KiwiSaver members 18 years and older who have contributed at least the minimum percentage of their income to KiwiSaver for at least three years, and have an annual income of up to $80,000 (for one or two buyers).
The subsidy can be used either for buying a house or buying a section and building a house. In Hawkes Bay the price cap of $300,000 applies in both cases. To be eligible, applicants can have realisable assets of no more than 20 per cent of that price cap or $60,000.
Applicants who plan to build need to have arranged funding for the construction of the building. The total cost of both the land and the house should be within the price cap and applicants need to provide a fixed price contract to show this. The land or site must be ready to build on, building must start with 12 months of the purchase of land and the applicant must live in the house for at least 6 months once it is built.
In your case, a key point is that the subsidy is only available to someone who does not currently own any property. You already own your section, so it is unlikely that you will be eligible for the subsidy. This is addressed in the FAQ section on their website where it states: "The deposit subsidy is for KiwiSaver members who have never owned a home or had an interest in a home. Owning land is considered to be the same as having 'an interest in a home'."
What about someone who holds a small interest in Maori land? This is also answered on the website: "People with an interest in multiple-owned Maori land subject to Te Ture Whenua Maori Land Act 1993, who meet all other criteria, are eligible for the deposit subsidy." The key here is whether all their realisable assets are less than the 20 per cent price cap.
People who have previously owned property but do not currently own property may also qualify for the subsidy if they meet the income and asset limits. Housing New Zealand is keen to see eligible KiwiSaver members take advantage of the subsidy as well as their Welcome Home loan (which helps low income families into their own home). They have produced a booklet called Buying your first home made easy with KiwiSaver andare running a campaign at www.my-first-home.co.nz.
It would be worth checking with Housing New Zealand, as their application form does say that realisable assets includes 'net equity in property or land (not being used as your home)'. So there is some inconsistency between the online information and the application form.
However, all your realisable assets will still need to be below $60,000, so on that point alone - depending on the value of the section - you may fail to qualify.
Shelley Hanna is an authorised financial adviser FSP12241. Her disclosure statement is available free by calling 870 3838. The information contained in this article is of a general nature and is not intended to provide personalised advice. Send your KiwiSaver questions to shelley.hanna@peak.net.nz.