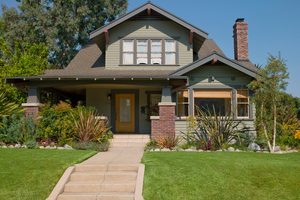 With home-loan lending restrictions arriving in less than a month, more house-hunters are expected to turn to family and friends for financial help. But your goodwill can turn to custard if the borrower suddenly can't meet their repayments. Cassandra Mason investigates the hidden risks of lending money to family.

Reserve Bank regulations that come into force on October 1 will take a harder stance on low-equity mortgages in a bid to cool the country's heated housing market.
It will make it harder to get a home loan with deposits of less than 20 per cent.
The policy has brought fears that prospective buyers will be forced to borrow from family to get a foot on the property ladder. And more people are expected to put themselves down as guarantors for family who can't foot the bill.
But the Banking Ombudsman warns that lending and guarantees within families can be problematic.
Why guarantors need to be carefulBanking Ombudsman Deborah Battell says her office encounters a low but consistent level of disputes over guarantees, especially as many people are not fully aware of the financial impact if the borrower doesn't meet repayments.
"More often than not a guarantee arrangement can work well and is a useful financial tool.
"But our experience dealing with guarantee complaints and disputes is complainants may not have been fully aware of the negative impact a guarantee can have on their own finances in the event the person whose lending they agree to guarantee gets into financial strife," Battell says.
"Unfortunately, ignorance is not a defence and we have seen guarantors find themselves in dire financial straits themselves, which is all the more distressing given their good intentions."
What happens if the borrower defaults?Before becoming the Ombudsman, Battell says she wasn't aware that banks could call on guarantors to cover any debt, including credit cards and future borrowings. If there are multiple guarantors the bank can also choose to focus on one if they believe that person has the means to pay up.
Guarantors can have money taken out of their account if they bank with the same bank where the person borrowing the money has defaulted on the loan.
This means if the bank has a mortgage over your home, it can sell your property to satisfy your obligations as guarantor.
In anticipation of the Reserve Bank changes, Westpac has already launched a service that allows family members to help first-home buyers into properties.
The bank will allow prospective homeowners to borrow against the equity in the property of an immediate family member, or their savings, to make up their deposit.
Family dynamics
Consumer New Zealand finance writer Kate Sluka says people often don't know what they're getting themselves into when lending to or guaranteeing a loan for family members.
"People can be quite unaware of what can be involved in that they're then responsible for that debt if someone defaults on it."
Borrowing from parents can also create friction between siblings - another thing to be careful of, Sluka says.
Age Concern has warned its members ahead of next month's changes, she says.
"Age Concern fear that people will coerce their parents and their grandparents to lend them money for house deposits."
And unforeseen developments - such as illness, job loss or divorce - can throw a spanner in the works. "All these issues you have to think about and put into any contract."
Legal advice from both sides is an absolute must, she says.
What if someone asks me to be a guarantor?Take independent legal advice and think carefully before agreeing to be a guarantor.
Make sure you know what the person's credit history is like and whether they have the ability to repay you.
Look into whether the borrower already has obligations to the bank.
Ask yourself: Is the borrower likely to let you know if they start to find it difficult to keep up with their obligations?
Don't lend the money unless you have the means to meet all the borrower's obligations.