Marine Recreational Forecasts - Hawke Bay
5:46 PM February 20, 2017
Area Description:
Inshore waters between Cape Kidnappers and Portland Island.
Situation:
A high southeast of New Zealand extends a ridge onto the area through to Wednesday, when a weak front approaches from the southwest. The front crosses the area on Thursday, followed by another ridge on Friday.
Warnings:
NIL warning for PORTLAND
Forecast:
Monday: Northeast 15 knots tending easterly 15 knots this afternoon, easing to northeast 10 knots this evening, then to variable 5 knots overnight. Sea slight. Increasing fine spells. Tuesday: Variable 5 knots. Easterly 10 knots developing in the afternoon, turning northeast 10 knots early evening, then easing to variable 5 knots late evening. Sea slight. Mainly fine, but fair visibility in a few morning showers north of Napier.
Outlook:
Outlook until midnight Friday: Wednesday: Easterly 10 knots developing for a time in the afternoon and evening. Fine. Thursday: Easterly 10 knots developing early, changing southerly 15 knots late. Fine at first, showers developing later. Friday: Southerly 15 knots dying out. Cloudy periods, isolated showers.
Swell:
Swell forecast to midnight Friday: Easterly 1 metre, rising to 1.5 metres today and to 2 metres Tuesday. Easterly easing 1 metre Thursday. Southerly 1 metre developing east of Wairoa Thursday.
Moon Phases
Feb 18
Last Quarter
Feb 26
New Moon
Mar 05
First Quarter
Mar 12
Full Moon
Isobaric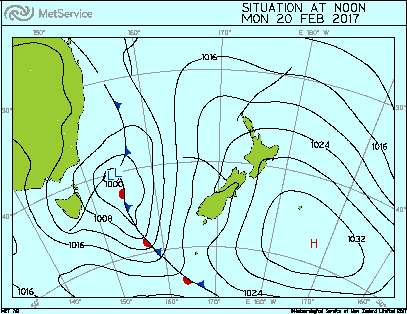 February 20, 2017
Satellite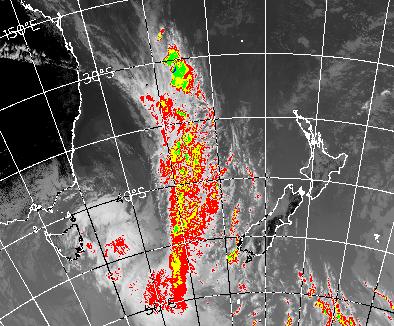 February 20, 2017
For more detailed weather information visit