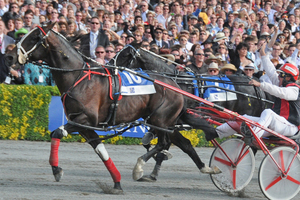 Addington Raceway plays host to the New Zealand Trotting Cup with the big race taking place at 5.15pm.
The Herald previews all the action in one of the biggest days on the New Zealand racing calendar.
Cup holds no terrors for May
With four wins already under the belt, driver Ricky May is ready for another at Addington today.
Purdon prepared to wait on fitness of Sushi Sushi
Champion trainer Mark Purdon will give Sushi Sushi until the last minute to get over the injury which threatens his New Zealand Cup start.
Cards go on table in Sires Stakes
Steven McRae couldn't have felt better about Franco Nelson's chances in today's $180,000 Sires' Stakes Final - until last Wednesday afternoon.
Murcielargo has drive to reach the top
Punters wanting to start New Zealand Cup Day with a bang might need to do so with their fingers crossed. Because trainer Phil Williamson is adamant Murcielargo is the trotter to beat in the 3200m opener, providing he gets the first 600m right.
Cup day punting
Best bet: I Can Doosit (R6, No 9): Champion who should win again so run through all your multis.
Best each-way: Phil's Gift (R3, No 7): Has manners and meets the open class second stringers. Bookies had him too long.
Fingers crossed: Murcielargo (R1, No 16): Massive ability and scratchings help. If he behaves can down Stent.
Luck needed: Highview Teejay (R8, No 10): Third in far stronger field last start. Might be three back markers but can win if the gaps come.
Bolter: Johnny Fox (R12, No 8): From a better draw could have started favourite but has high speed and $8 fixed is great value.
Are you going to Addington? Send us your photos from the field.