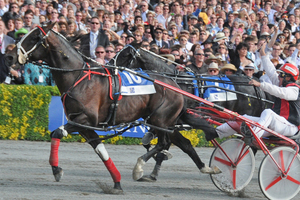 Ricky May and Terror To Love had a little disagreement last Wednesday.
It went something like this.
Terror To Love, being a big, brash pacing stallion who has been getting life pretty much as he likes it recently, got bored at the end of the official Cup trial at Addington and decided to pull up.
No harm there. After all, it was only a trial and he was well clear of his rivals.
But his driver May, armed with the experience of having won four New Zealand Cups, knows there will be no room for such complacency in the glory stages of today's $600,000 classic at Addington.
So May said some pretty harsh things and when that didn't work he gave Terror To Love a friendly little tickle on the rump with the whip.
And he kept tickling him until about 600m after the finish line of the 2600m trial.
"I figured he has to run 3200m in the Cup so I made him run it last Wednesday as well," May told the Herald.
May says Terror To Love's laziness last Wednesday isn't an issue but he wanted to make sure it won't be.
"It is the first time he has done that with me," he says.
"Sometimes when they have been winning easily they can get that way, especially stallions.
"So I didn't actually hit him, I just flicked him to make him realise we have work to do and that he can stop when I tell him he can stop.
"Apart from that, he felt great."
With that equine arrogance taken out of the equation, there don't appear to be many other major obstacles standing in the way of Terror To Love's Cup defence today.
He was freakish winning the great race last season and his lead-up form has been significantly more dominant this term.
The 5-year-old gives his supporters nervous moments before the start as he fidgets and rears, but almost always paces away cleanly.
From barrier two, May should have him handy and be able to impose his will on the race when the tactical dangers arrive.
"I can drive him confidently, he has earned that right," says May in reference to the pair taking the Flying Stakes at Ashburton three weeks ago by the scruff of the neck.
So Terror To Love has the manners, the motor, the driver and now the motivation - thanks to last week's little disagreement - to win again today.
Which leaves two questions: is he worth backing at his $2.40 quote? And if not, who can beat him?
The bookies' price is driven by his pre-post support and lack of love for his rivals, but it should ease, at least slightly, today.
But if this NZ Cup field in their current form ran this race 100 times, Terror To Love would probably win it more than 50 times, so factoring in a small margin for error, $2.50 sounds fair.
As for his rivals, there are plenty of stalkers but few bullies who can deny Terror To Love his way and put May in the unenviable position of having to second guess himself.
Franco Ledger has the brilliant stand-start manners and raw speed to give Southland their best chance of Cup glory in three decades so is worth a saver bet.
"He is one horse I wouldn't want on my back turning for home," says May.
Gold Ace is an x-factor horse with the right trainer-driver combo and the chance to be put to sleep early before swooping so looks the best each-way value.
And Mah Sish is a genuine 3200m horse, with manners, horsemanship and form on his side, making him the best place bet, with a shot at stealing it should things get tactical.
Sushi Sushi is in form and can win if he starts, but his injury cloud won't sit comfortably with many punters.
Caribbean Blaster and Fly Like An Eagle are good enough but still in their first open-class campaigns while the rest could place but it is hard to see them winning a New Zealand Cup.
Selections: Terror To Love, Gold Ace, Mah Sish, Franco Ledger.
Cup day punting
Best bet: I Can Doosit (R6, No 9): Champion who should win again so run through all your multis.
Best each-way: Phil's Gift (R3, No 7): Has manners and meets the open class second stringers. Bookies had him too long.
Fingers crossed: Murcielargo (R1, No 16): Massive ability and scratchings help. If he behaves can down Stent.
Luck needed: Highview Teejay (R8, No 10): Third in far stronger field last start. Might be three back markers but can win if the gaps come.
Bolter: Johnny Fox (R12, No 8): From a better draw could have started favourite but has high speed and $8 fixed is great value. NZ Trotting Cup Day Special