Bookies forced to wind odds right in after Terror To Love wins Flying Stakes.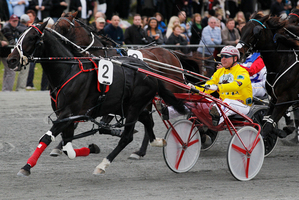 The key question surrounding next month's New Zealand Trotting Cup changed in the space of three minutes yesterday.
Because before the running of the Ashburton Flying Stakes punters were wondering whether Terror To Love could defend his NZ Cup title.
Anybody who saw his effortless demolition of our best pacers yesterday will now be asking: how can he be beaten?
The magnificent 5-year-old destroyed many of his key Cup opponents, striding to the lead in the middle stages and bolting clear from the late charging Pembrook Benny, who grabbed second courtesy of a brilliant Zac Butcher drive.
The Francos were next: Franco Emirate an outstanding third after settling last and Franco Ledger storming into fourth and looking every inch a Cup contender.
While small cases could be made for Sushi Sushi, Fly Like An Eagle and Jarcullembra as improvers, it is hard to believe any of those beaten yesterday are capable of turning the tables on Terror To Love, bad luck aside, at Addington on November 13.
There are still a few dangers waiting for other lead-up races at Kaikoura on Monday (Auckland Reactor), Kilmore on Sunday (Caribbean Blaster) and Addington on November 2 (Mah Sish) but, quite simply, none of them are racing well enough to beat Terror To Love at the top of his game.
Hence the $2.40 fixed odds quote Terror To Love was with the NZ TAB last night.
"That is about as short as we have ever had the New Zealand Cup favourite this far out from the race," said bookmaker Steve Richardson.
"And I think the price is fair because we are going to have problems trying to sell any other horse in the race. Everybody expects him to win now, simple as that."
That level of confidence spilled out of driver Ricky May after the race, explaining why he uncharacteristically left the one-one at the 1700m mark to stroll to the lead.
"He is the best horse so I thought I'd do something I wouldn't usually do and let him show it."
May has won four New Zealand Cups and knows something is going to need to go wrong for him not make it five Cup wins next month.
Later on the programme, giant Pukekohe pacer Pure Power made a late call-up to the Cup field when he won the intermediate-grade pace.
While he has been luckless in the open-class races this season, it was his second win on end in strong fields and he looks set to be a big rankings mover today.
Two horses who were in the likely Cup field who will not be now are Rangataua Ray, who was pulled out after a poor performance yesterday, and Sleepy Tripp, who was effectively eliminated by being stood down from standing-start races.