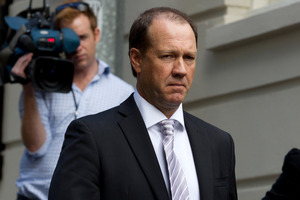 One of Mark Hotchin's family trusts never agreed to reimburse the former Hanover director for the millions he poured into a mansion on Paritai Drive, the High Court heard yesterday.
Mr Hotchin paid more than $12 million towards the construction of a seven-bedroom, 12-car-garage mansion on land which is owned by one of his family trusts, KA No 4.
The businessman had planned to lease the property from the trust when construction was completed and live there with his family. But after the collapse of Hanover Finance in 2008, the former director couldn't put any more funds into the project and so the trust took over the responsibility for building it.
Although it is almost finished, Mr Hotchin says he is not in a financial position to lease the property and it will soon go on the market.
Mr Hotchin is seeking some reimbursement for his construction costs and has brought a claim in the High Court at Auckland against KA No 4's trustee.
The case, being heard this week by Chief High Court Judge Helen Winkelmann, will likely decide how some funds from the property's sale are divided up.
Although Mr Hotchin is seeking reimbursement for the construction costs, former KA No 4 trustee John Radley said yesterday there had never been any agreement this would happen.
"We never agreed how Mr Hotchin's expenditure should be dealt with," Mr Radley said.
Appearing as a witness for KA No 4, Mr Radley said Mr Hotchin's contribution to the property was not recognised as a liability in the trust accounts.
Yesterday an accountant who did work for both the trusts and Mr Hotchin, Dwayne McGorman, told the court he believed there was no obligation for reimbursement.
"I don't believe there was ever an obligation for him [Mr Hotchin] to be reimbursed," Mr McGorman said.
When the trust took over building the mansion, Mr McGorman said, the ownership of the unfinished house Mr Hotchin had paid for was a "grey area".
The Financial Markets Authority - which has freezing orders over the house - is also involved in the claim between Mr Hotchin and the trustee.
The FMA has brought civil action against Mr Hotchin and five other former Hanover directors or promoters and because of this it says it has an interest in the case being heard this week.
Parties will deliver their closing arguments today.