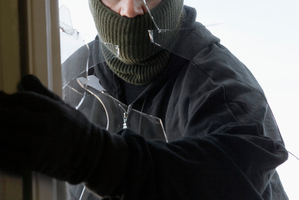 Hamilton residents are being advised to check their home security following a series of intruder incidents in the east of the city on Sunday.
The first incident happened about 3am when a woman asleep with her partner in their Hillcrest Rd home woke to find a male holding her hand.
"The intruder fled when the woman screamed," said Detective Sergeant Kristine Clarke of the Hamilton CIB.
"A short time later, about 3.20am a man arriving home at his Orelio St property was confronted by a man inside his house who pointed a gun at him before fleeing the scene."
A young woman staying with a friend in the University of Waikato Halls of Residence complex on Silverdale Rd woke up about 4.15am to find a man bending over her female friend who was sleeping in an adjacent bed, Ms Clarke said.
"When she challenged the intruder he has then threatened her with the firearm.
"After a brief struggle the man has run out of the complex's front door. In each incident the offender was described by the victims as wearing a black or dark coloured hooded sweatshirt with a mask or bandana partially covering his face."
Ms Clarke said given the three incidents happened within about a kilometre of each other and the similarities of the victims' descriptions, police are not ruling out a link between the events.
"While Police are investigating these incidents, the public can play their part by checking their home security and making sure doors and windows are secure when they go to bed at night. While keeping windows open in these warmer temperatures can cool the house down it may be prudent to use a fan or air conditioning given the type of offending that is occurring."
"We are appealing for any sightings of suspicious activity in or around Hillcrest overnight Saturday/ Sunday and ask anyone with information contact the Hamilton Central Police Station on 07 858 6200."
Information can also be provided anonymously to the organisation Crimestoppers, on 0800 555 111.