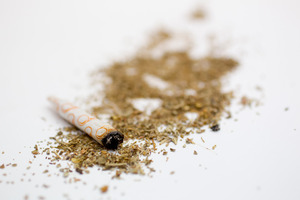 Before the Psychoactive Substances Act came into force, the public had high hopes the new legislation would see synthetic cannabis pulled from the shelves.
That hasn't been the case. Instead, some money-hungry retailers have seized the opportunity to apply for licences to sell the products.
The Act allows it and there's nothing to stop them as long as the front for the business isn't a dairy, convenience or grocery store, service stations or liquor outlet.
Ten people have applied for licences to sell from premises in Hamilton. They include existing adult shops and puff stores.
The shop that opened three weeks ago in Grey St isn't purporting to be either of those.
It's an empty room - aside from a counter and steel cabinet - with blackened windows.
Neighbouring businesses are annoyed at the store's presence.
The owner, Kinnari Patel, says he's no drug dealer and he has home-made signs on the counter telling patrons not to loiter out front of the shop front so as not to upset the public, or nearby businesses.
Patrons appear to be abiding by the request but I can't help but side with the locals on this.
Some of the people frequenting the store are obviously under the influence - if not synthetic cannabis, then some mind-altering substance.
One customer let rip after she asked and I told her why I was there.
Mr Patel and I were engaged in civil conversation before this woman took exception to me "harassing him".
Seemingly wired, she spoke at a million miles an hour how the media coverage of synthetic cannabis was "all a load of propaganda" and that people like me should look for stories elsewhere.
During her rant, she told me she'd just dropped her children at school and was picking up a couple of packets of "legals" that she'd have before she got stuck into daily chores.
"I'm a functional person," she screeched.
She didn't take kindly to me questioning that statement.
Anybody could see she wasn't terribly functional.
Her behaviour wasn't normal and her appearance was similar to that of a pock-marked methamphetamine user.
Another store customer said he'd be using P if he didn't have access to synthetic cannabis.
Several people I've interviewed on the issue have said synthetic cannabis is as addictive as P.
If that's the case, chances are high that woman will end up being another of the users putting strain on mental health providers.
People are being committed to institutions throughout the country suffering the ill effects of so-called legal highs.
Many exhibit paranoid and extremely violent behaviour and need long-term support.
Mr Patel says new products are awaiting approval by the Ministry of Health and those on the shelves are milder than before.
If that's true, does it mean users have to consume more than they did to achieve the same high? If that's the case, it's lining those immoral retailers' pockets more.
That mother spent $50 in Mr Patel's store that day and said she smokes about a pack a day. Despite her earlier ramblings, I had to agree with her parting words.
She said there were other blights on society that did just as much harm in the community - pokies and alcohol, for example.
She's right about the harm they do but that woman could be the poster child for the effects of synthetic cannabis. It's costing her in many ways and will continue to do so unless she kicks it.
It's costing her financially and she has no idea what it's doing to her physical health, let alone her mental health.
But what concerns me the most is what effect it's having on her children.
They deserve better and politicians should be ashamed they haven't just banned this stuff full stop, instead of passing a law that has more holes in it than the raving mother's clothes.