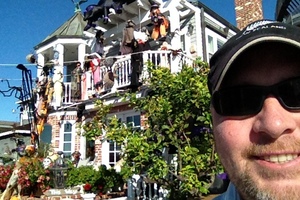 Fancy a festive celebration with a difference? Kim Gillespie joins half a million superheroes, ghouls, wizards, Banes and Gandalfs in California for a Halloween to remember
You can tell Halloween is approaching when every eatery in California seems to be serving pumpkin dishes.

New Zealand has picked up on a few of the holiday's traditions, including a spot of trick or treating, but that's nothing next to the extent the US goes to town on it.

It's not just the pumpkin pancakes and pumpkin brulees - pumpkin specials on offer from breakfast to dessert - or even the doggy Halloween costumes on the well-pampered pets of Orange County. October 31 is just days away, and houses up and down the waterfront on Balboa Island at Newport Beach, Orange County, are decorated for the occasion.

A huge amount of work must have gone into each one, with skeletons, pumpkins, ghosts and giant spiders (a lot of giant spiders) adorning multimillion-dollar homes.

It's an amazing enough thing to see by day, but when we return at night the displays really come to life - from the glowing pumpkin lanterns along one of the jetties, to the flying and glowing ghosts on the rooftop rotary clothesline and the fantastic light displays.

Some of the locals tell us that by November 1 all the Halloween decorations will be gone, to be replaced by Thanksgiving and then Christmas-themed displays. It's a busy time of year for these folk, but they really seem to love what they do.

Less than an hour up the freeway we're in West Hollywood, where there's no mistaking which event is about to take place.

Fittingly for our Halloween visit, we're staying in what must be Sunset Boulevard's most bizarre hotel.

The Standard is anything but - even the sign out front is inverted.

From the floor-to-ceiling shag carpet in the lobby to the kitsch-but-cool colour schemes and furnishings, The Standard is as bizarre as quality hotels get.

There's a barber's, a bar and a diner off the lobby, and the rooms boast (very comfortable) platform beds, huge mirrors, an iHome for your iPhone or iPod, beanbags and a view over Los Angeles to die for.

Like many hotels, bars and restaurants in California, Wi-Fi is free and plentiful throughout, but The Standard also has a girl in a box. The most bizarre feature of this hotel is known as the Box Girl. She sits in the vitrine behind the reception desk between 8pm and midnight each night. I believe they call it installation art.

Strange, but stranger sights are to come.

It's October 31 and you can feel the buzz as West Hollywood tenses for its biggest night of the year - the Halloween Carnaval. Plenty of locals are already roaming the boulevards in costume (at least, I hope they're in costume).

After lunch at The Abbey - the official "Best Gay Bar in the World 2010", decorated with giant spiders, webs, demons and ghouls - we stroll down Santa Monica Boulevard, Route 66, the venue for tonight's festivities.

The street is empty; road blocks went up at noon. Shops are closed for Halloween. All there is to see are posses of sheriff's deputies gearing up for the big night and signs everywhere warning us "Don't eat the weenies". Eating fare from illegal street vendors can apparently make you very sick and, to be honest, eating sausages wrapped in bacon probably isn't the healthiest snack choice. But apparently they're delicious.

Our hosts have already provided us with a few costume items for the night ahead, but we're all keen to top up at Aahs!! novelty gift and party supply store on an iconic stretch of the Sunset Strip near the infamous Viper Room.

There are so many ghoulish options to choose from, but it's not all about the screams. In New Zealand our Halloween getup is more likely to be along a horror theme, but it seems Halloween Stateside is more like a giant Wellington Sevens event.

For example, one of my fellow travellers dressed as an Angry Bird for the occasion, another as a nerd.
I opt for a home-made costume, courtesy of the only white T-shirt I could find (Red Hot Chili Peppers), several fake blood capsules, a zombie mask and a plastic machete. The result - I even scare myself.

And when we hit Santa Monica Boulevard for the big party I attract more than my usual share of horrified stares.

Rihanna has just been crowned Queen of West Hollywood, half a million people are in a good mood, the music is pumping and the atmosphere is electric.

The crowd is a visual feast, one of the best things you'll ever see - there are so many fascinating and crazy costumes it's easy to lose yourself in the moment. One of the best is on our host - a female Freddy Krueger.

Some other of the more impressive costumes are inspired by The Lord of the Rings, but the most common theme seems to be Batman villains, with Bane in particular showing up all over the show.

One group of five each has a letter as a costume. I think at first they spell Dr Ink, which is a bit odd. It takes a few moments to realise they actually say "DRINK". But perhaps the most amazing aspect of the carnival is that you can put 500,000 people in a relatively confined space and there's no booze in sight and no sign of trouble or aggro.

The only thing that I see keeping the deputies busy is arresting weenie vendors.

And still, those weenies smell good as we pass another vendor on the walk back to the hotel after an exhilarating, sense-assaulting, push up Santa Monica through the exuberant masses.

Oh, what a night.

Did you know:

Newport Beach, pop. 86,000, in Orange County, CA, is one of the richest communities in the US and boasts the world's biggest small yacht harbour.

West Hollywood city, pop. 35,000, in Los Angeles County, is shaped like a handgun, and according to a 2002 study, 41 per cent of the city's population is made up of gay or bisexual men.

Getting there:

It's 12 hours there and 13 hours back on Air New Zealand, but that's nothing if sleep comes easy, especially if you travel in skycouch or spaceseat style. There's also a huge entertainment selection available. Air New Zealand offers daily return services to Los Angeles, with twice daily services available most days.
See www.airnz.co.nz for more details or call 0800 737 000.

Check out:

Newport Beach http://www.visitnewportbeach.com/

The Standard Weho http://www.visitwesthollywood.com/standardhotels.com/hollywood

The Abbey
http://www.abbeyfoodandbar.com/

Kim Gillespie travelled to Los Angeles courtesy of Air New Zealand, Visit Newport Beach and the West Hollywood Marketing and Visitors' Bureau.

Call Send SMS Add to Skype You'll need Skype CreditFree via Skype