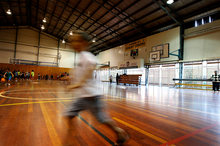 The sale price of the Hamilton recreational facility used by the YMCA may be affected by a possible city council obligation to give the Y first option to buy the building.
The city bought the Pembroke St facility 20 years ago, and staff are now investigating an apparent agreement to offer it back to the YMCA at market value if it was ever sold.
An email last week from council executive Sean Murray alerted councillors to the newly discovered "first-option" arrangement.
He also warned them that their decision in June to sell the building only for recreational and related purposes had lowered the number of interested parties and could "dramatically affect an ultimate sale price".
At the time of the council's 7-6 vote, the site's combined three titles had a value of $3 million.
A valuation of the property was carried out this week, but it is a complicated process because some of the items attached to the building, such as the air-conditioning units and basketball hoops, are either partly or wholly owned by the YMCA.
The Y wants to buy the facility to continue running after-school and community programmes and was disappointed when the council decided to disregard their long-standing relationship and entertain interest from the Waikato Kindergarten Association.
The city's performance general manager, Blair Bowcott, said staff were still investigating whether the council had to offer the building to the YMCA first. He expected to have an answer next week, when staff who had been in the early discussions with the interested parties returned to work.
"It is possible that placing conditions on the sale may influence the sale price, but this cannot be quantified."
By Nikki Preston

Email

Nikki