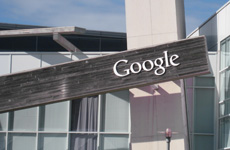 When ailing computer workstation maker Silicon Graphics filed for Chapter 11 bankruptcy protection last year, it found a willing new tenant for its sprawling Mountain View campus in web giant Google.
Silicon Graphics had tried to turn corporate culture on its head at Mountain View as it failed to do the same with its business.
Engineers, the deep thinking types, were given private offices with doors while the managers sat in open-plan cubicles.
Then came Google, which bought the property and set about turning it into what resembles a university campus.
It tore out all the old offices that cocooned the engineers and left with a surplus of doors, left them suspended from the glass walls of second floor offices. The doors are always open.
And so were they the day we visited Google on a tour that took us all over the campus, even through the understated executive wing where Google founders Larry Page and Sergey Brin hang out - the place was empty of even the secretaries when we breezed through.
If you are young and low on the pay scale working at Google is the dream job. They feed you three free, good quality meals a day. A laundry full of washer-dryers is in constant use as people leave their clothes off for cleaning - for free.
You can bring your dog to work, there's an on-campus medical centre and dotted around the place, little shops where you can take your computer for fixing or an upgrade.
The idea is to keep people relaxed and happy in their work environment so they spend longer on the campus, working. The strategy seems to be paying off.
Everything looks pretty leisurely at Google - people sit around on multi-coloured couches chatting or play pool on the numerous tables scattered about the place.
The running machines in the Google gym have LCD TV screens built into them so you have your own personal viewing while you get fit.

If there's a relaxed vibe to the place, it's also a tad on the cluttered side. Most of the furniture doesn't match. Some workers offices are housed in large indoor tents, while others work in cubicles or offices bordered by garish yellow Perspex.
The idea seems to be to let Googlers adjust their surroundings to suit them and the result is a world away from the uniform tidiness of the Apple campus.
We pass numerous people working behind banks of LCD screens, but its hard to tell what they are doing. Many people have Gmail accounts open, but whether they are part of the team looking after the search engine itself, or Google Maps or Google Apps is a mystery - there doesn't seem to be any particular segmentation of the work groups.
What there are, are big whiteboards crammed with scribbles and fragments of ideas. Under the banner of "Google in 2007: share your ideas", someone has scrawled "Acquire Facebook".
On another board a diagram measures good versus evil and legal versus illegal. Googlers have placed words like "spam" and "lawyers" on the quadrant. A cardboard cut-out of Doctor Evil has been adapted to read "Don't be Doctor Evil". Everywhere, Google seems to be falling over itself to keep its conscience clear.
In the various lobbies, an endless stream of live searches are projected against a screen. Amid the random words and phrases is the name "Steve Fossett". Almost two weeks after disappearing over the Nevada desert the missing aviation adventurer hasn't been forgotten.
The only software on display at Google is a neat Google Earth-style 3D representation of the world with coloured lines shooting out from it to represent internet searches underway.
Europe is in darkness, but lit up by a multicoloured cloud of internet activity - each colour represents searches in a different language. A few bubbles in red, to represent English, dribble up from New Zealand.
Another demo shows Trendalyzer, software that was this year acquired by Google and shows sets of data in a visual way with great effect.
From the second floor at Google, our guide points out the numerous solar panels that sit on top of the buildings and carpark walkways and generate 1.6 megawatts of power for Google, offsetting 30 per cent of the company's peak power consumption at the Mountain View campus. Google claims it's the biggest corporate solar power installation in the US, possible the world.
Solar power is hot in Silicon Valley right now. We meet a couple of entrepreneurs working in this area, which has received a good deal of venture capital funding of late.
Google's sustainability stretches to growing its own vegetables in the park, a stone's throw from the giant T-Rex model Sergey Brin has had installed.
It's likely that a good deal of the stuff we saw while touring Google is for the benefit of visitors, of which the internet search giant no doubt gets a lot of.
The place has its own style and philosophy which is slightly cultish. But it's obviously that if you're an ambitious young software developer, Google is the place to be in Silicon Valley.
The rows of interview cubicles devoted to conducting interviews of potential new Googlers suggest there's plenty of demand for exactly those types of people.

By Peter Griffin

Email

Peter