Lofty All Black aims also have a practical purpose, as style provides substantial benefits, writes Gregor Paul.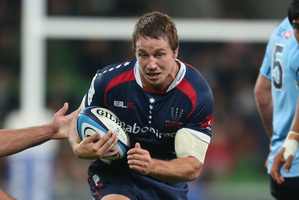 The immediate threat to New Zealand of Australia announcing plans to launch a nine-team provincial championship in August this year won't be obvious.
If anything, the new tournament may hamper the Wallabies this year as their players are contractually required to play in it when available. Like what they need in a rest weekend from the Rugby Championship is another game of rugby.
But in time, if this latest incarnation survives - provincial tournaments have been launched in Australia before and not lasted -New Zealand will feel its impact.
The talent pool here is going to be raided. That's a given. New Zealand is already the chief hunting ground for Australia's Super Rugby sides. The flow of traffic across the Tasman has increased markedly since the introduction of the Rebels in 2011.
There have been a few marquee signings such as Daniel Braid, Alby Matheson and Tamati Ellison, but the more common recruit of choice has tended to be those players on the cusp of Super Rugby selection in New Zealand who have not quite made the cut.
In that list are the likes of Mike Harris, Jason Woodward, Jayden Hayward, James King, Scott Fuglistaller and Winston Stanley.
New Zealand rugby has hardly been brought to its knees by these departures but there must be a breaking point.
There is not absolute elasticity in the player market here. The volume of departures can't keep growing at the current rate and not have an impact on the quality of rugby in New Zealand.
The Australian Rugby Union have stated that they see the new competition as an important part of player development; an opportunity to start breeding future Wallabies. That could be read as a preclusion to recruitment of players from New Zealand.
Why spend heavily on a development tournament and fill it with players from New Zealand? Well, for the simple reason that it only takes three years to turn proud Kiwis into fair dinkum Aussies.
Australia's provincial sides will recruit younger Kiwis - players who had the benefit of a New Zealand rugby education but who are open minded about to whom they commit their allegience. NRL clubs are already frequently poaching New Zealanders while they are still at school and it's inevitable that Australian rugby provinces will look to do the same.
"We are already seeing a bit of that," says Auckland Rugby coach Wayne Pivac.
"The first-five from the Pakuranga club last year has headed off to Australia. I'm not sure where he's going but I think we will see a bit more of that Auckland B type of player being poached.
"If they are going to have nine teams, with probable squads of 28, that's 254 players they are going to need to find. I would imagine it will become yet another market for players here.
"But there is nothing new in that for us. We are used to that and what we have to do is ensure our talent identification is spot on and that we are getting to keep all the players we want to keep.
"If we lose players after we have made our selections, then there is not much we can do about that. If we are locking in the right players, then there is not much for us to worry about."
The attraction for young New Zealand players will be the prospect of cracking Super Rugby in Australia. It remains a highly competitive business trying to win a Super Rugby contract in New Zealand. Outside backs and loose forwards face particularly stiff competition to make it in New Zealand.
If an opportunity to play provincial rugby in Australia comes up, it is going to be hard for young players not quite certain if they are in the top tier to resist.
Initially at least, money is not likely to be a compelling factor in player decisions. An ITM Cup contract in New Zealand pays a minimumof $18,000 and the money on offer in Australia is expected to be about the same.
But for young players not long out of school, it will be the prospect of potentially making a Super Rugby side that will be tempting.
The typical pathway in New Zealand is for players to spend two years with a provincial academy after they leave school (earning glorified pocket money) - that may include game time in the ITM Cup - another two seasons as a full ITM Cup player and then a Super Rugby contract.
The Australian pathway may be quite different; the expectation would be that players are recruited as full provincial squad members. Those who are eligible immediatelymay take only one season to crack Super Rugby, while thosewho are not will still feel they have a good chance of making it as soon as they have served their three-year residency.