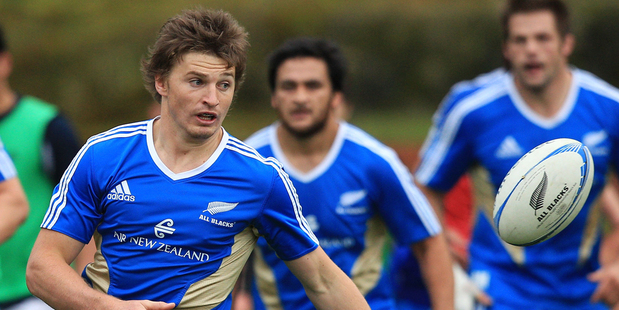 Blink and you miss a fair bit these days as could soon be evidenced if Daniel Carter's troublesome calf doesn't come right.
This time last year it was Colin Slade who was asked to replace the great man at the World Cup. Then Aaron Cruden had to step in when Slade was injured before Stephen Donald was recalled from his fishing trip to win the World Cup for the All Blacks.
By the middle of this year we were back to Cruden as the obvious successor to Carter, but maybe, just maybe, it is Beauden Barrett who is going to be the man trusted with either starting in the No 10 shirt against Argentina or warming the bench should Carter come right.
All Black coach Steve Hansen has shown himself to have a good feel for when players are struggling. He doesn't make hasty or rash decisions so would not call up Barrett on a whim.
But there are a couple of reasons why the selectors may be leaning towards the younger man rather than Cruden. The first is performance.
Cruden struggled for 60 minutes against Argentina in awful conditions. He wasn't helped by the work of the pack or the intensity of the Pumas defence, but still...it was test football and things aren't supposed to be easy.
What impressed was the gutsy way he dug in, tried to adapt and play a game more suited to the weather and bring himself into the contest.
It was much the same against the Boks where events were remarkably similar. The experience will have done Cruden good in the long term but it also exposed a few areas of concern.
His kicking game is improved on 2010, but not really top drawer stuff. At this level, an All Black No 10 has to have the full range at his disposal: he also has to know when to kick high to create a contest; when to go long to turn the back three and when to chip over the top and chase.
That's not really Cruden's game either in execution or decision-making. He's at his best running onto flat passes and beating the first defender or playing others through the hole.
That much became clear in the last two weeks and the selectors will be conscious that to win in Argentina and South Africa, they need a No 10 with a booming boot: their kicking game has to be first-class and if Carter isn't fit, then maybe the next best option in that regard is Barrett.
It will be an enormous test of character - a huge leap of faith to throw a 21-year-old into those cauldrons...but, again, this is test football and that's what happens: players are pushed outside their comfort zone and asked to confront their demons.
The steadier, more cultured boot of Barrett appeals in those venues with Cruden a valuable option on the bench to be injected in the final 20 minutes to inject pace and trickery against tiring defences.