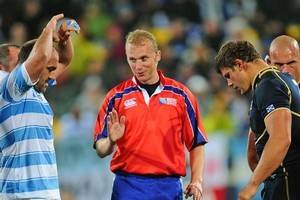 To be a central figure at one Rugby World Cup is bad enough - but for Wayne Barnes to have now hi-jacked two World Cups...that's unforgiveable.
Sadly, though, while we all howl with derision, Barnes is probably moving higher up the referee pecking order. His star is no doubt shining because he's following the IRB's golden rule - to not make any critical decisions in the final stages of big games.
It should be the players and not the referees who determine the outcome of the contest - a mantra the IRB adopted ever since Andre Watson penalised England in the final minute of the 2003 World Cup final for a technical infringement at a scrum.
Barnes is taking that mantra even further by just not making any big calls at all. It's left the Welsh and Scots furious this time round and like anyone could ever forget, didn't really endear him to the All Blacks in 2007.
Everyone focuses on the obvious forward pass he missed in the build-up to France's match-winning try in the 2007 quarter-final, but his real failing was that he allowed 40 minutes of rugby to be played without awarding a penalty.
There were close to 200 breakdowns in that game and yet not one penalty came in the second half. Conspiracies have even arisen about this statistical anomaly - after all it seems normally penalties come every other breakdown - but there is no bigger picture to grasp than Barnes being adamant that detail is irrelevant in big games. Anything goes just as long as the game continues to flow.
It didn't matter that Argentina's Felipe Contepomi was metres offside which forced Scotland's Dan Parks to make a late attempted drop goal off his left foot rather than his preferred right. No wonder Parks remonstrated as the ball flew wide taking with it Scotland's hopes of progressing from Pool B - but his appeal fell on deaf ears; there was no way Barnes was ever going to award the Scots a penalty in front of the sticks with one minute remaining and Contepomi knew it. Just as the French sensed four years ago that they could flop over the tackled ball and lie there all night.
The thing about Barnes is that he's mostly a good referee. When Wales played South Africa on the opening weekend he communicated well and let the two teams contest in the areas they wanted to contest.
He communicated clearly throughout the Scotland versus Argentina game and did particularly well to keep the scrummaging just about under control.
But his refusal to make bold calls and enforce the laws of the game at times is a killer for everyone, except it seems, the IRB.
If Ireland and New Zealand should reach the final and rule out Alain Rolland or Bryce Lawrence from taking charge then God help us - Barnes could be let loose.
And we will have anarchy in the final quarter. Barnes will wave anything through and the showpiece event could be reduced to farce.
No one wants the referees to be the story of this World Cup because they impose themselves too much. But there is a danger one referee could influence everything by not imposing himself at all.
- HERALD ON SUNDAY