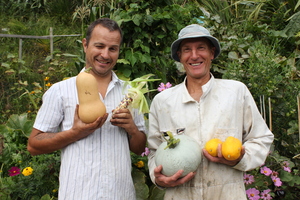 Gardening: Prepare for heavy cropping, hungry plants this summer.
If you are hoping for productive crops and a bumper harvest then now is a good time to prepare some rich planting pits.
These deep, underground stores of rich nutrients can lie in wait for the roots of pumpkins, zucchini, cucumbers and tomatoes as they start to grow.
Ready sustenance for plants when they need it most, during the height of summer, planting pits not only hold nutrients but also absorb moisture thanks to a concentration of organic material. This is an extra boost to plants bearing the strain of mass foliage and lots of fruits.
Planting pits provide the perfect solution to a new garden or raised bed with soil that is being worked into productivity.
Easy to prepare and very effective, all you need to do is:
1. Dig a wide hole that is about two spade or shovel blades deep.
2, Add nutrient rich materials - rotted compost or manure, seaweed, pea straw, sheep pellets
3.
Mix nutrients well at bottom of hole.
4. Back fill with garden soil over planting pit.
5. Plant seedling in topsoil above planting pit.
6. All being well, the results should be a good crop.
Get free seeds packs with all POD orders over $25 at the POD website.
Like what you see? For weekly Element news sign up to our newsletter.
We're also on facebook and Twitter.