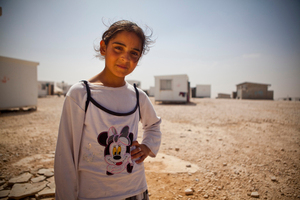 Global news: "Syria, my beloved country, I love you. We will never forget you. We will be back one day." These are the words of a poem written by a 12-year-old Syrian girl living as a refugee in Lebanon. One of over 1.6 million people that have fled their home country since the civil war started, her family left in an attempt to find peace across the border. Half of those fleeing are children, left only with the clothes on their backs and as much as they can carry in their arms. This is the grim reality behind the numbers being presented in the media.
Over 100,000 civilians have so far died in the clashes. Over 430,000 Syrians have registered as refugees in Jordan so far, and over 500,000 are finding accommodation in Lebanon, as well as other neighbouring countries such as Turkey, Egypt and Iraq. These numbers are official, however global charity Oxfam estimates them to be much more.
Whole families risk their lives to escape, with the hope that they will find peace and a better life than what was being experienced in Syria. But the relentless influx of refugees has weighed heavily on these neighbouring countries and the reality is that many are faced with is poverty and limited resources once they arrive.
The Za'atari camp in Jordan, for example, was built to house 60,000, yet it is now home to more than 170,000 people, and classed as the country's fourth largest city. Jordan was already one of the most water-scarce countries in the world, before 500,000 refugees descended upon it. Now with summer approaching and signs of disease already evident, the pressure is growing greater than ever to make sure the population has enough sustainable food and water for everyone.
With an estimated 8000 still crossing Syrian borders each night, the calamitous effects on the human population in Syria and its surrounding countries have produced an immense aid response around the world. Media are struggling to convey the situation in Syria at the moment, with fighting between the State and the Syrian rebels making it too dangerous to report from the front lines. Focus has, instead, turned to helping those that have managed to escape the country. This is a struggle as most refugees remain outside of the official refugee system.
Many Syrians are worried that by registering as refugees and asking for support from international aid organisations, they will be vulnerable to future repercussions from the Syrian state if they were to return. However, those that are not in refugee camps like Za'atari remain essentially invisible, unable to receive aid such as blankets, water, and tents that will help see them through the foreseeable future.
Syrian refugees, like the 12-year-old poet in Lebanon, are continuing to hold on to the hope that one day they will be able to make the journey back to their home country, and begin building their lives once again. 4.25 million Syrians remain displaced within Syria, unable to go back to their homes, but not wanting to leave the country to which they belong.
Samira
Samira is a 45-year-old widow who reluctantly left Syria to find refuge in Lebanon. Her five sons came with her to Lebanon, however two of her daughters went to Jordan, and one has remained behind in Syria.
Samira fears for the safety of all her children, especially those that she has been separated from, with no idea when, or if, they will ever be reunited. She is currently living in a one-room shelter of breezeblocks and plastic sheeting, which she shares with 12 other people.
"At first I was very reluctant to move to Lebanon, I changed my mind a lot but finally I decided to come here. We couldn't get any food anymore, we couldn't live our lives, we lost our jobs and we worried that we couldn't stay alive." - Samira
Farah
Farah Abd Latif, 10, and her family fled the conflict in Syria and are now living in Jordan's Zaatari refugee camp. When Farah was in Syria she witnessed the bombing of her neighbour's house - a family of seven, including four children who were her friends. All were killed. She didn't speak for two weeks.
Farah's family are just one of thousands living in the seven square kilometre camp. The six-by-four metre containers become their new homes, where whole families eat, sleep and pray together.
Boys playing soccer
Al Jaleel is one of the oldest Palestinian refugee camps in Lebanon, remaining from the Palestinian exodus of 1948. Syrian families have begun using it as a place of refuge after fleeing Syria as there are no official refugee camps set up in Lebanon.
These boys pictured try to maintain some normality amongst the adversity of their lives, coming together to play soccer in a barren field.
Zainah
Zainah lives in a tented settlement in Lebanon with her two young daughters. They live in cramped conditions which they share with three families. Zainah and her family have to travel a long way to get water and struggle to afford simple necessities.
"The whole experience was full of fear, the clashes were very close to our house. Our windows were all shattered because of the bombs, the kids used to cry a lot. We only had one choice and that was to leave Syria." - Zainah.
To donate to help Syrian refugees, visit oxfam.org.nz
Like what you see? For weekly Element news sign up to our newsletter.
We're also on facebook and Twitter.