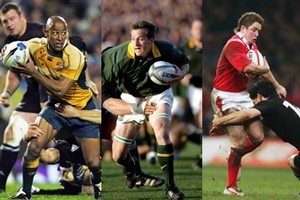 The All Blacks have created some rich rugby rivalries since 1903.
Click on the links below for look at each rivalry.
AUSTRALIA
Magic clashes between determined siblings
The All Blacks and Australia first clashed in 1903, a 22-3 to New Zealand, and have played each other on 139 occasions since - battling each other to get their hands on the Bledisloe Cup.
Record
Played 140 - All Blacks won 95 - Australia won 40 - Draws 5
SOUTH AFRICA
Battle against Boks fiercest clash of all
The All Blacks fiercest rival, South Africa have the best record of all nations against New Zealand having 44 percent of the matches.
The rivalry was put on hold for 11 years following the infamous 1981 tour as apartheid left the Springboks in rugby wilderness until 1992.
Record
Played 82 - All Blacks won 46 - South Africa won 33 - Draws 3
WALES
A history of obsession
To a younger generation England would seem a more fitting rival but Wales and New Zealand have a rich history as the coalminers took on the farmers. Wales may have only beaten the All Blacks three times in their history but the two nations hold a ton of respect for each other.
Read more...
Record
Played 28 - All Blacks won 25 - Wales won 3
FRANCE
Fear pushes French to unexpected wins
Despite player fewer matches against the All Blacks than Australia and South Africa, France have arguably pulled up bigger victories with two shock wins at the World Cup. But the rivalry goes back further than that with the nations first meeting in 1906.
Read more...
Record:
Played 49 - All Blacks won 36 - France won 12 - Draw 1