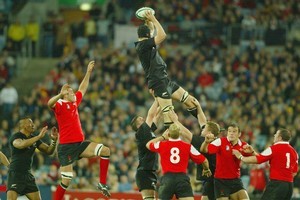 Born in controversy, saturated in acrimony and degenerating into woeful disparity, the rugby rivalry between Wales and the All Blacks couldn't ever be called a feel-good story.
Not for the Welsh, anyway.
And if that's a cheap shot, it's entirely in keeping with the niggle, gamesmanship, whining and occasional acts of barbarity that have riddled the Welsh-All Black relationship for over a century.
Perhaps you can put it down to our similarities. Two small, rugby-obsessed countries with what people from larger nations with more diverse sporting interests might identify as chips on our shoulders. New Zealanders, proud of our rawboned farmers; the Welsh, of men who laboured down the mines. If our nations were unimportant on a global scale, any superior-acting rugby foes could be taught humility on the footy paddock.
We celebrated our forward power while the Welsh waxed lyrical about their twinkle-toed backs. Where New Zealanders tended towards the laconic, the Welsh liked nothing better than making a big fuss in their fluting, musical voices, singing and crying without even being drunk.
And talking, on and on, about how good their players were.
The seeds of rancour were sown in that very first test at Cardiff Arms Park in 1905 when, yes, the Welsh won. Teddy Morgan scored for Wales in the first half but the undefeated Original All Blacks seemed to have seized back the initiative through a second half try to Bob Deans that had the makings of a match-winner. The conversion would have been a sitter for the legendary Billy Wallace.
The Welsh claimed Deans had come up short. The referee was late on the scene, where he found in the home side's favour, opening a wound that never quite seems to heal.
After the match, Deans sent a cable to a newspaper claiming he grounded the ball six inches over the line but was pulled back by Welsh players. It is the version of events that generations of New Zealanders have sworn by but which, all these years later, has still had no effect on the 3-0 on the scoreboard.
The 1924 All Black tourists evened the ledger but Wales narrowly won the next two official tests, in Wales in 1935 and 1953. They haven't won since.
The great All Black sides of the 1960s dispatched them at home in 1963 and 1967 and, most resoundingly, on their two-test tour of New Zealand in 1969. The Welsh had high hopes for the 1969 side, which included brilliant players such as JPR Williams, Barry John and Gareth Edwards. But New Zealand dominated both tests, winning 19-0 and 33-12.
That had to hurt, and no doubt fuelled the Welsh desire to topple New Zealand in the following years, which became in other respects a golden era for their national side.
This was when the rivalry turned most intense - and for the first time it was live on TV.
In 1972, the All Blacks won 19-16. The next encounter, in 1978, brought a scandal to match that over the Deans try. With three minutes to play, Andy Haden and Frank Oliver fell limply from a lineout in the Welsh half. The referee penalised a Welshman for pushing off Oliver's shoulder and Brian McKechnie duly stepped forward to nail the match-winning kick.
The All Blacks have pulled away since then, usually winning easily. An exception was in 2004, when they scraped home 26-25 on Richie McCaw's debut as captain. The Welsh have also put up decent fights on the past couple of end-of-year All Black tours, going down 19-12 in 2009 and 37-25 last year.
Thankfully, though, no number of defeats will ever snuff out the Welsh desire to beat the All Blacks or temper their burning national pride. In the words of All Black great Ian Kirkpatrick, "You can never beat Wales, you can only score more points than them."
Relations can still turn testy, even with a succession of New Zealanders coaching the Welsh in recent years. Would the crazy stand-off over the haka that erupted in 2006 have happened anywhere else?
But it's still possible to detect a deep current of affection in the relationship. Plenty of New Zealanders make pilgrimages to Wales, where they find people just as willing as New Zealanders to talk nonstop rugby. We recognise in each other a passion for the game that can verge on unhinged.
The affection was clear a few years ago when John told this writer about his fond memories of touring here. "I love New Zealand. My favourite country, to be honest. After Wales of course."
* Bevan Rapson is an Auckland journalist and commentator.
Other rivalries:
Australia: Magic clashes between determined siblings
South Africa: Battle against Boks fiercest clash of all
France: Fear pushes French to unexpected wins