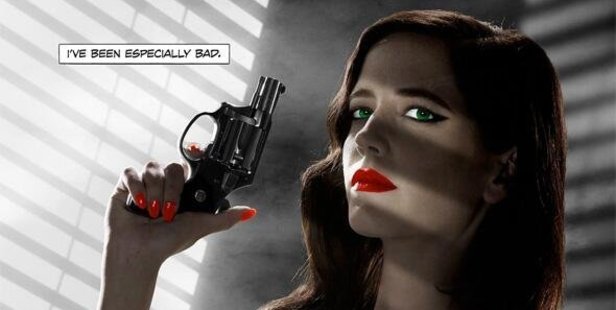 Actress Eva Green has spoken out about her banned Sin City 2 poster appearance, pointing out that she's "not actually naked" in it.
The raunchy artwork featuring the Penny Dreadful star in a white see-through robe was being used to promote the upcoming R18 film, but was banned by the Motion Picture Association for America.
It said the poster for Sin City: A Dame to Kill For was axed due to Green's visible "curve of under breast and dark nipple/areola circle visible through sheer gown".
Green, 33, has since spoken out about the fracas, saying: "I'm not actually naked on the poster."
The actress told Vanity Fair she had been following the outcry over the poster's banning with interest and said it was a "lot of noise for nothing".
"I find it a bit odd. It seems like it's all just publicity - a lot of noise for nothing. You have so many more violent things in the movie business and this is kind of soft. I'm not naked. It's suggested."
Green joins cast members Jessica Alba, Joseph Gordon-Levitt, Josh Brolin and Bruce Willis for Frank Miller's thriller Sin City: A Dame to Kill For, set to open in New Zealand on August 21.
Read more: What is this horrific show, and why is it coming to NZ?
- nzherald.co.nz, Independent