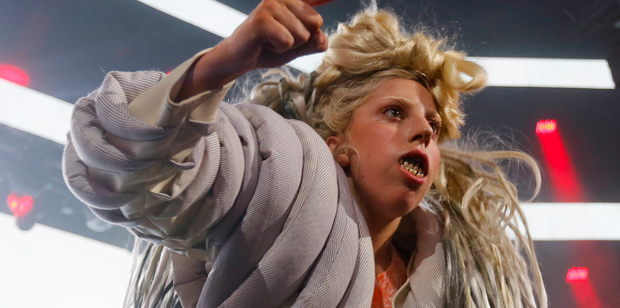 Pop star Lady Gaga stunned her father when she told him she was broke after pouring her millions into the stage set for her 2009 Monster's Ball world tour.
The singer says she put her US$3 million savings into the design to give her fans the best live experience - and to impress a very important promoter.
In a new documentary, which debuts on US TV this week, Gaga says: "I was bankrupt during the show. I had $3 million in the bank to my name and I threw it all in to make my stage.
"I remember I went home and I was with my dad, and he said, 'I don't understand, Bad Romance is out, you're all over the radio, everyone is talking about you and you don't have a pot to piss in.'
"I said, 'Just let me do this, let me just put it on the stage because I think if I can do this I think I can get Arthur Fogel's attention'."
Fogel is the Live Nation mastermind who manages U2 and Madonna's tours.
The gamble paid off - Fogel was impressed with Gaga's efforts and signed on to manage her next tour, which raked in more than US$220 million and became one of the most profitable concert treks of all time.
"Everybody said it couldn't happen ... Everybody said he was crazy,'' Gaga recalls, adding: "I remember he called me and he said, 'We wanna do this', and he got Live Nation to write me a $US40 million cheque.
"It changed my life and the life of my whole family."
- WENN