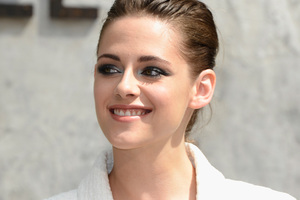 Kristen Stewart was paid US$500,000 (NZ$616,000) to spend just 15 minutes with a Middle Eastern prince.
The unknown royal was eager to meet the 23-year-old, and was willing to pay whatever price she demanded.
The deal was brokered by Hollywood mogul Harvey Weinstein, reports the New York Post. The money from the 15-minute meet and greet will go to the Hurricane Sandy Relief Fund.
According to Weinstein, when he asked Stewart if she would be willing to go through with it, her response was, "How much?"
He then admiringly joked, "My kind of girl".
The 61-year-old co-founder of Miramax Films says Stewart met the Prince at Madison Square Garden last December.
The meet-and-greet went off without a hitch and the unidentified man paid the money in cash.
Weinstein told the story at the Toronto Film Festival, where he's promoting 12.12.12 - a documentary about the Hurricane Sandy benefit concert.
Stewart was one of many celebrities who took part in the fundraiser in December. She gave a heartfelt speech about the hurricane, which caused massive damage to the New York and New Jersey coastlines.
"I am here to talk to you about New Jersey tonight,'' she said, before reading out a list of statistics about the disaster.
"Now is your chance to be Jersey strong with us,'' Stewart added.
Other high profile people who took part in the benefit included Bruce Springsteen, Adam Sandler, Susan Sarandon, Chris Rock, the Rolling Stones and Kanye West.
- Cover Media