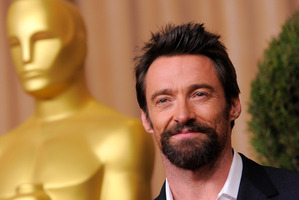 Aussie Actor Hugh Jackman made one last-ditch effort to win over Oscar voters by one-upping his rival Daniel Day-Lewis' portrayal of former US President Abraham Lincoln.
The Les Miserables star and Day-Lewis are both up for the Best Actor trophy at the Academy Awards on Sunday, but the 55-year-old, who plays the titular president in Steven Spielberg's movie, is the clear favourite to win gold after beating Jackman in the same category at a string of recent awards shows, including the Golden Globes and BAFTAs.
But Jackman isn't giving up - during an appearance on US program The Late Show With David Letterman on Wednesday, the multi-talented star wore an Abraham Lincoln-esque top hat and faux beard to sing a portion of the assassinated president's famous Gettysburg Address speech - to prove he was more deserving of the prize.
Before breaking into song, he joked, "I mean, really, can Daniel Day-Lewis do this?"
- WENN