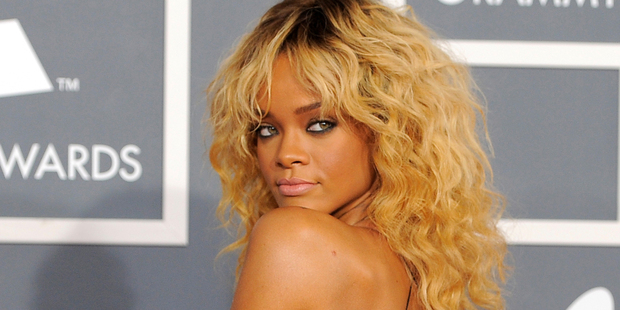 Rihanna denies her new clothing collection is "too sexy''.
The singer showcased her debut designs for British high street store River Island at London Fashion Week.
No one went to Rihanna's debut as a fashion designer expecting demure dresses set off with tasteful pearls.
So no one was surprised by the double-volume hip-hop music, smoke machines and champagne that greeted guests at the unveiling of her Rihanna for River Island collection.
Much of the buzz Saturday was about Rihanna's first-even fashion collection. Many of her outfits had a simple, monochrome look - in off-reds, yellow, navy, black and other colours - and they were cut to look good on those blessed with a fit physique.
Some were satin, some jersey, and some of the short skirts were made with denim and matched with crop tops or T-shirts.
Rihanna also tried her hand at a few elegant, semi-sheer dresses that were predominantly black with white floral patterns.
The singer appeared unusually shy but happy in her brief appearance on the catwalk to take in the audience's applause. She wore a short black dress as she waved to her fans.
However Rihanna's racy ensembles came under fire from some fashion critics, but Rihanna has denied that her clothing line is over the top.
"Everyone can wear this line. It's not costume, it's not too sexy. It's very easy and laid back,'' Rihanna told GraziaDaily.
"I designed every piece in the collection so I could wear it and I think my fans trust my style so they'll have fun with it.''
The Barbadian singer described what inspired her creations and who her target audience is.
"The collection is casual, chic, flirty and for all body types. I wanted all girls to really want to wear this and be comfortable in it but still feel edgy. I wanted the character to come out in the clothes without trying too hard,'' she said.
Rihanna added that the line, which features models Jourdan Dunn and Charlotte Free in the promotional images, contains pieces to suit all emotions.
"My style is definitely inspired by my mood so this collection will feature a range of different moods and attitudes because I'm assuming my fans will feel the same way,'' she said.
- COVER MEDIA