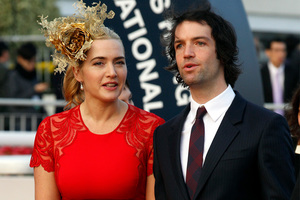 Actor Kate Winslet's shopping outing in Masterton at the weekend has made news around the world and brought priceless exposure for one local fashion shop.
Winslet was seen with film-maker Sir Peter Jackson, who owns a property outside Masterton, his daughter Katie, and Winslet's husband Ned Rocknroll.
They were seen at women's clothing store Pagani, Dick Smith, and cafe Iberia on Sunday.
Shop assistant India Kawana served the star at Pagani, although she wasn't quite sure who she was at the time.
"I just thought 'she looks like Kate Winslet but she can't be, we're in Masterton'," she said.
There were other customers in the store while Winslet and Katie were shopping, and Rocknroll and Jackson kept coming in to check on them, Miss Kawana said.
Manager Theresa Trask wasn't working on Sunday, but said Winslet purchased a variety of dresses, blazers, sunglasses and jewellery.
Although the staff were told not to reveal what the star had bought, a blog on the Pagani website said she brought an oriental print skater dress, a lace printed lisa dress, a 2-button short sleeve blazer, and gold sunglasses.
The foursome stopped in at Iberia for a coffee, delighting owner Wayne DellaBarca who said he was "chuffed" to have them but respected their right to privacy.
"I was stoked to see PJ roll on in," he said.
"It's good to see him in town, I hope it happens more often."
Mr Dellabarca said that once the group had taken a sidewalk seat at the cafe he didn't intrude and simply made sure they, like all customers, got good service.
Mr Dellabarca said that a few years back when he owned Strada, the eatery across the road, he had served Steven Spielberg. The Hollywood director had wandered in wearing a baseball cap and ordered a coffee.
Regent 3 Cinemas owner Brent Goodwin saw Jackson and Winslet outside the cinema.
"Thankfully, like most Kiwis, I would rather die than interrupt their almost-anonymous visit to the town," he said. Jackson was also seen in Dick Smith.
Some of New Zealand's top performers were also in Masterton for the Classic Hits Winery Tour 2013 this weekend.
Members of Fat Freddys Drop, Anika Moa, Boh Runga, and Hollie Smith of AnikaBoh&Hollie, and Jon Toogood, Julia Deans and Shayne Carter of The Adults were in town.
For more articles from this region, go to Wairarapa Times-Age