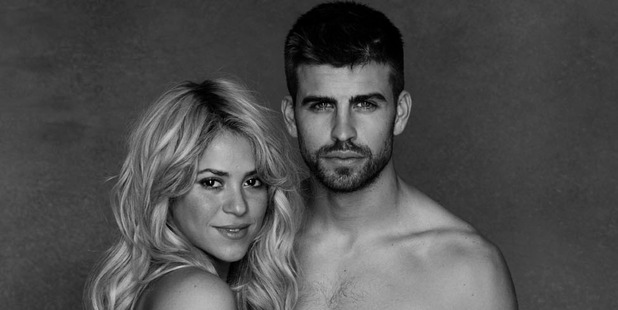 As congratulatory messages rained down on Shakira after the birth of her baby boy, some wondered why he was named after an Italian soccer team that is the main rival to Barcelona, where her partner Gerard Pique is a defender.
Shakira, 35, gave birth to Milan Pique Mebarak on Tuesday in Barcelona.
Both the boy and mother were said to be in fine health.
But the name came as a surprise to many, Milan being the name of the famous soccer team from that Italian city and Barcelona's next rival in the European Champions League.
In a statement, Shakira said Milan was of central European origin and meant "loved, full of grace, loving", in Slavic and "unification" in Sanksrit.
Pique's grandfather, Amador Bernabeu, admitted the family was surprised by the choice and confessed he had never heard of the name. "I think Milan will become fashionable," he told local radio RAC-1.
Bernabeu said the couple was delighted.
"I still haven't seen him (Milan) in person but I know he is dark-haired and weighs 2.9kg," he said.
The grandfather, a former director of the Barcelona club, made sure Milan was registered as a club member as soon as he was born.
Congratulatory messages poured in for the couple from both sides of the Atlantic.
Colombian President Juan Manuel Santos was among the first to wish them the best, while the Pies Descalzos (Shoeless) Foundation for poor children set up by Shakira in 1997 sent a Twitter message saying, "The children and Pies Descalzos team are happy for Milan's birth. We love you Shakira!"
Manchester City striker Sergio "Kun" Aguero wrote on Twitter: "Welcome Milan Piqu Mebarak and congratulations to Shakira and Gerard Pique. What would you prefer as a present for the baby, a microphone or some (soccer) boots?"
Barcelona midfielder Cesc Fabregas also tweeted a welcome to the baby, saying he "can't wait to meet you".
Antonella Roccuzzo, the girlfriend of Argentine soccer ace Lionel Messi, tweeted "Welcome to the world Milan Pique Mebarak. Now Thiaguin will have a great friend," in reference to her recently-born son.
Shakira and the 25-year-old Pique have been a couple for the past two years and are regularly featured in gossip magazines and TV programs in both Europe and Latin America.
- AP