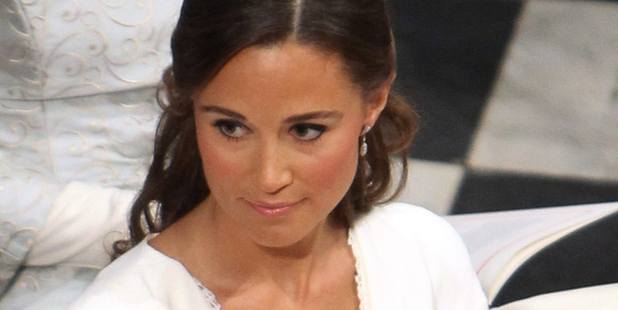 First there was the debauched party thrown by French fashion entrepreneur Vicomte Arthur de Soultrait.
Then there was the trip to an exclusive resort in the Hamptons courtesy of millionaire hotelier Andre Balazs and his private seaplane.
And it seems Pippa Middleton's induction into the upper echelons of the fabulously wealthy is continuing apace - with a deer and boar hunt organised by the grandsons of Belgium's richest man.
According to recent reports, the Duchess of Cambridge's socially ambitious little sister travelled to Gerpinnes, south of Charleroi, for the event, arranged by the family of Belgian billionaire Albert, Baron Frere.
The Frere family, who are akin to royalty in their home country, refused to comment, saying "hunting is a private affair".
But three anonymous sources in the hunting party confirmed Pippa's presence at the December 1 event, Belgian newspaper La Capital reported.
"I shook her hand but at that moment I didn't recognise her," said one. "Afterwards a friend teased me, saying: what, you didn't recognise Pippa?"
Another hunting party member said he didn't realise Pippa was Kate's sister because she introduced herself by her full name, Philippa. The 29-year-old's "mythical bottom", the newspaper reported, was disguised by a "khaki tracksuit" during the expedition.
The hunt, one of several put on each year by the family, was organised by Albert Frere's son, Gerald, and his two grandsons, 27-year-old William and Cedric, 28.
Given Pippa's jet-set lifestyle, the fact that she is enjoying the company of Belgium's richest family 'does not at the end of the day surprise anyone', La Capital commented tartly.
It's certainly not bad for a middle-class girl from Bucklebury, Berkshire.
But then, Pippa has long surrounded herself with a group of young, wealthy and often aristocratic friends.
"She has always been a ferocious social networker, egged on by her mother, Carole, who is one of the most ambitious people I have ever met," said one member of her circle. Even as a student at Edinburgh University she shared a flat with the sons of not one, but two, dukes - George Percy, heir to the dukedom of Northumberland and Ted Innes Ker, son of the Duke of Roxburghe.
And last September she enjoyed the extravagant hospitality of American millionaire Mr Balazs, who flew her to his Sunset Beach boutique hotel on exclusive Shelter Island during her trip to New York.
It is not clear how Pippa has come to know the Frere family, but it is possible that they were introduced through friends of the Vicomte, whose risque 18th-century themed party she attended in Paris last April.
He is a keen huntsman himself, whose family own vast shooting estates in France and travel across Europe in search of more sport.
Pippa is known to have accompanied him on several hunts, photographs of which have been posted by the aristocrat on his Facebook site.
Other photographs seen by the Daily Mail in recent years show a tweed-clad Pippa on the estates of various landed friends, including her confidante George Percy, surrounded by dead pheasant and grouse.
Like Kate and, indeed, their parents, Michael and Carole Middleton, Pippa is said to have become a keen shot.
Mrs Middleton was photographed in 2010 lying in a field on the Balmoral Estate being taught to deerstalk by one of the Queen's gillies.
Certainly Pippa's supposed shooting expertise would have come in handy in Belgium.
According to those in the know, women in the Frere hunting parties normally shoot and do not merely come along for the ride, as can often be the case.
Pippa is thought to have been among a 20-strong party who set out from the Bierlere forest near Gerpinnes. Six boars and nine deer were killed.
Wild boar hunting in Belgium is not for the faint of heart, however. The animals have become so aggressive that hunting dogs now need bullet-proof Kevlar jackets.
Albert, Baron Frere, 86, is said to be worth a staggering £2.1billion (NZ$4 billion). He was born the son of a nail merchant and helped in the family business from an early age. But his father died when Frere was 17, so he left school and ran the family business by himself.
At the age of 30, he started investing in Belgian steel factories and by the end of the 1970s practically controlled the whole steel industry in the region of Charleroi.
He foresaw the coming steel crisis of the late 1970s and sold his enterprises to the Belgian state. In 2002, he received the title of baron from the Belgian king, Albert II.
- DAILY MAIL