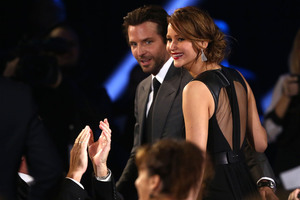 Bradley Cooper has denied he is dating Jennifer Lawrence, saying he "could literally be her father".
Romance speculation was fuelled after Cooper, 38, split from girlfriend Zoe Saldana earlier this month, and on Friday it was reported that Lawrence, 22, and Nicholas Hoult have ended their two-year relationship.
The pair worked together on Silver Linings Playbook and the upcoming movie Serena.
The stars arrived on the Golden Globes red carpet separately and he was quick to dismiss the rumour, when asked about it.
"We've done two movies together," he told ET Online. "If it didn't happen by now, it's not going to happen."
"I concur," Lawrence said.
"I could literally be her father," Cooper smilingly added.
Lawrence, who wowed in a strapless red-orange Dior haute couture dress at the glitzy ceremony, said she was battling a fever.
"I'm fine," she said. "It's the flu ... I had the doctor come over and give me a shot of something in my butt today and tell me I had the flu."
- Cover Media