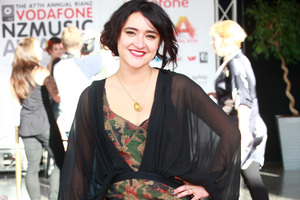 Actress Keisha Castle-Hughes sustained face and head injuries in a late-night fall.
The actress' fiance DJ Jonathan Morrison tweeted his "Queen" had a broken nose and a bump on the head at 12.50am after a music party on Thursday night.
However, he told the Herald on Sunday her nose was not broken.
He said she fell - perhaps because of her dress shoes - down the road from the Vodafone Music Awards ceremony.
"It was a bit of an accident. It was a bit dramatic but it's all right now. She's just resting," he said.
"I've just spoken to her and she says she's feeling fine today and she had a great night."
Morrison had tweeted that Keisha had checked herself out of hospital within an hour as she no longer wanted to wait to see a doctor.
Keisha told her followers she was all good after she "turntitup". But yesterday she tweeted pictures of herself partying with friends with the message: "If you start taking pics like this w/ your friends, you are too drunk and only moments away from breaking your nose."
The couple got engaged in September after a six-week romance.
Castle-Hughes and Morrison were with a group warned by police after another awards ceremony this year for breaches of the Auckland Council liquor ban.
Castle-Hughes was embroiled in several late-night controversies with her former partner Michael Graves.
She ended up in handcuffs during an argument with a customer at an Auckland bar and Graves ended up in court after an argument with her in his car.
A charge of assault was later withdrawn.