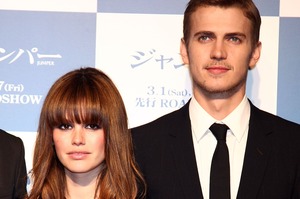 Rachel Bilson is thinking about having children.
The 30-year-old actress - who has been dating actor Hayden Christensen for the past five years - is "pretty happy" with her love-life after being stuck in "so many love triangles" during her twenties and she is now considering starting a family.
The brunette beauty - who dated her O.C. co-star Adam Brody for three years before they split in 2006 - said: "I've been in so many love triangles on TV and in real life. I'm pretty happy with where I am right now.
"I figured everything out in my twenties. It's nice to be heading towards the next chapter and thinking about children and things like that."
Rachel believes she is a good girlfriend to Hayden - who she met on the set of 2007 movie Jumper - because she spends time with the 31-year-old star's friends, but the Last Kiss actress also ensures she balances the time well by getting together with her own pals on regular occasions.
She added to more! magazine: "I feel I do well as a girlfriend. I can hang out with all my boyfriend's friends. I know how to roll with the guys.
"It's important not to ditch your mates when you're in a relationship. Lots of girls do it, but you need to remember they will always be there for you. I surround myself with my girlfriends."
- BANG! Showbiz