Lydia Ko's endearing personality and outwardly casual demeanour mask steely determination for perfection.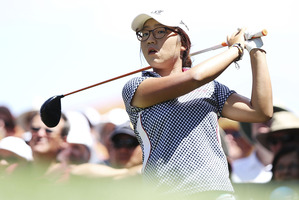 Well that was a bit of a fizzer, wasn't it?
After her record-breaking start to the tournament, teenage golfer Lydia Ko slumped to a third-place finish in the Australian Open with a final round of three-over 76 after a rocky day on the greens of the Royal Canberra Golf Club.
With expectations high after Ko's historic win at the New Zealand Open the weekend before, her final-round collapse was a disappointment.
But the very fact that we consider a 15-year-old amateur finishing third in an LPGA tour event an anticlimax is illustrative of Ko's precocious talent.
The crowd in Canberra last week certainly recognised they were witnessing a true golfing phenomenon. Her blazing opening round of 10-under 63 was something special and will long be remembered at Royal Canberra - the same course where Greg Norman shot a 10-under 62.
After each round a crowd gathered outside the clubhouse waiting for the teenager to emerge, swarming around her to get their programmes and course guides signed. Ko was clearly bemused by all the attention but obliged anyway, giggling at her new-found status.
Ko-mania has gripped other parts of the world as well. Her bid to win the Australian Open has attracted headlines around the world, and generated unprecedented online traffic for the tournament's website.
In the United States, the Golf Channel chose to broadcast the final round live after previously showing only potted highlights. The station does not often broadcast LPGA events live from overseas, and described the move as "a rare treat for US golf fans".
While some may argue the pressure of all the hype and expectation got to Ko in the final round, she has carried herself extremely well throughout the tournament. She doesn't appear rattled when things don't go her way - she is just a 15-year-old kid having fun on the greens.
But Ko's endearing personality and outwardly casual demeanour mask a steely determination for perfection. That combination will not only win her many golf tournaments but an increasing fan base.
With each successive top-level performance, the pressure increases on Ko to turn professional and go on tour full-time.
The Korean-born New Zealander, already ranked 30th in the world and possibly about to break into the top 10, has said she does not intend turning professional yet. Her plans are to complete her schooling in Auckland then take up a US college scholarship, meaning she would remain as an amateur.
There have been plenty of people within the golfing world express their opinion on whether Ko should forgo her dream of representing Stanford University for the immediate promise of millions in potential endorsements and prize money on the LPGA tour.
But probably the most remarkable facet of it is that Ko even has a choice.
Despite the history of challenges for women's professional sport, Ko sees a future that is unencumbered by time. She is confident in the knowledge that a lucrative career and opportunities remain in the future, that she is happy to wait until she pursues a professional sports career.
The security in having a choice is the apex of progress for women's sport.