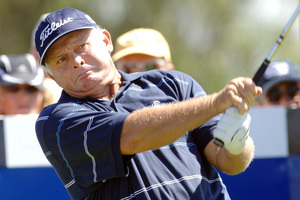 Peter Senior, 53, held his nerve in "near impossible" conditions to become the oldest Australian Open golf champion.
The Queenslander overcame gales and a three-hour delay at Sydney's Lakes course to post a dogged final-round even-par 72 to win by a shot from a valiant Brendan Jones (71).
Cameron Percy (73) finished third a further shot back.
Senior tallied four-under for the event after rounds of 75-68-69-72. His second Open victory on a drama-charged afternoon comes after his first as a 30-year-old back in 1989.
The previous oldest Open winner was the legendary Peter Thomson at 43 at Kooyonga in 1972.
"I can't believe how many people stuck it out. I would have been at home in bed by now," a beaming Senior said after the tournament finished in near-darkness.
As virtually the entire field went backwards in winds gusting up to 80km/h, Senior dropped just two shots all day - at the fifth and seventh holes - but birdies on the par-4 10th and 12th holes proved priceless.
While Senior took the spoils, Jones was heroic in almost snatching victory with a spectacular finish.
Contesting his first national championship in four years, the Japan-based Jones nearly overcame a 12-shot deficit early in his round after going five under on his last 13 holes.
Featuring a brilliant eagle on the par-5 17th, Jones eventually closed with a 71 to finish with a 72-hole hole total of three-under 275.
While some players argued about the suspension, Open boss Trevor Herden said officials had to halt play just before noon when fierce winds knocked down a television tower near the 18th green.
-AAP