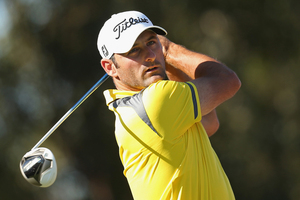 Kiwi Michael Hendry stormed into contention for the Australian Masters title with a first round 67.
Hendry was tied for second with Adam Scott and defending champion Ian Poulter, two shots behind Queensland bolter Matthew Guyatt Guyatt.
Hendry dropped only one shot in his round at Kingston Heath in Melbourne.
Guyatt, who started his round at the 10th hole, collected birdies on three of his last four holes to rocket to the top of the leaderboard, 7 under.
Scott played his back nine in five-under 31 to post a 67. And he was later joined by Poulter.
Ominously, Scott believed he wasted a handful of other birdie opportunities on a day tailor-made for low scores.
Guyatt, 37, was the surprise packet on the opening day with the course fanned by a gentle southwesterly wind, with the greens firm but not overly fast.
The Queenslander plays mainly in Asia and his only tour win is the 2011 NSW PGA championship. He dropped only one shot, at the 13th, in his pacesetting round.
Poulter, among the late afternoon groups, was pressing for the lead until he struck trouble at the par-four 16th.