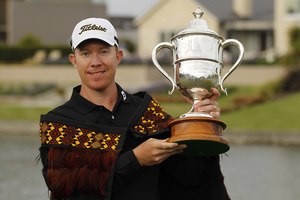 This year's New Zealand Open will have a new champion and runner-up following confirmation Australian golfers Brad Kennedy and Craig Parry won't return to Christchurch next week.
Kennedy won last year's tournament at Clearwater in a playoff over his veteran compatriot, but neither will tee up on November 22 as they are busy with other commitments.
However, New Zealand Golf received some good news today as two-time champion Greg Turner, who retired from professional golf in 2004 to spend more time with his family, signed on to play in the tournament.
It will be the first time in 10 years Turner has played at the event, and the former European Tour player recently turned out in his first professional tournament in eight years when he played at the Harewood Open on the Charles Tour.
The 49-year-old, who plans to return to the European Senior Tour next year when he turns 50, said he would enter this year's event with low expectations but looked back proudly on his previous Open wins at Paraparaumu Beach in 1989 and Middlemore in 1997.
"There is nothing like winning your national open," Turner said. "You dream of that moment when you're growing up as a kid and to realise that dream not once but on a couple of occasions is really special and I have very fond memories. I won 12 times around the world, but I wouldn't trade any of them for the two wins I had at the New Zealand Open."
The 38-year-old Kennedy, who has made 18 starts on the Japan Tour this year, is 27th on their money list with one tournament win.
New Zealand Golf's general manager Dave Mangan said it was disappointing the Sydney-born right-hander wouldn't be returning.
"We would have loved him to be able to come back and defend but he's got commitments up in Japan, which we, unfortunately, are unable to compete with money-wise," Mangan said.
Parry, who has won more than 20 tournaments since turning professional in 1985, was one of the more recognisable faces at last year's event and seems like a staple of the New Zealand Open.
Mangan said they were keen to accommodate the two-time winner on the PGA Tour, but it wasn't to be.
"Our understanding is it's simply a case of him concentrating on the Australian events this year," Mangan said of the 46-year-old.
Former champion Michael Campbell is a non-starter as he continues to chase a spot in the top 60 on the European Tour money list to qualify for the Race to Dubai, and Danny Lee won't attend as he will be trying to qualify for next year's PGA Tour.
Australian veteran Peter O'Malley is returning and is one of the more familiar figures on the greens having won the event in 1995. A host of promising New Zealanders will also start in the field of 144.
Seventeen starters still need to be found in a one-round shoot-out at the Russley Golf Club on Monday - three days before the tournament starts.
Kiwis Mahal Pearce and Phil Tataurangi will once again play, and Michael Hendry and Mark Brown will make welcome returns to the event.
Rookie professionals Ben Campbell, Mathew Perry and Ryan Fox will also feature, and Mangan said the tournament shaped as a great opportunity for a local to win for the first time since Pearce triumphed in 2003.
The Open is a tier-one PGA Tour of Australasia event, and the winner will gain a two-year exemption on the tour as well as starts in a few notable tournaments across the Tasman.
There's also a cluster of Kiwi amateurs who have been invited to compete, including Vaughan McCall (Gore), Compton Pikari (Te Awamutu), Tyler Hodge (Levin), Sam An (Titirangi) and Josh Munn (Manawatu).
Ashburton's Daniel Pearce, Masterton's Campbell and Perry (Waikato) were all given their invites as amateurs but have since turned professional.
- APNZ