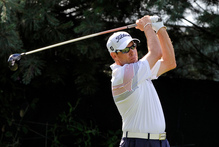 Brian Davis and Roland Thatcher, both chasing maiden victories on the US PGA Tour, were tied for the third-round lead at the US$6 million ($7.6 million) Travelers Championship yesterday.
Englishman Davis fired a six-under 64 to reach 12-under 198 after 54 holes. He is level with Thatcher who shot a five-under 65.
Stuart Appleby is the leading Australian, two shots off the lead in a group of three players tied for third place on 10 under.
Appleby shot a third round 67 to join American pair John Rollins and John O'Driscoll in the hunt for the leaders.
"It was one of those things where you had the rhythm, you were playing and you just kept going," Davis said of his front nine.
"We hit the back nine and the wind's picked up, and all of a sudden it was two groups on every tee coming it. Sort of lost some momentum a little bit."
Davis rolled in six birdies with a 29 on the front nine. Thatcher had a one-shot lead on the back nine but missed a 2m par putt on the 17th hole that set him back.
He had three consecutive birdies during one stretch of his round.
"It's been a really good three rounds, obviously one more to go, and it's a really packed leaderboard up there," Thatcher said.
The tournament was hit by stormy weather on Saturday which resulted in half the field not finishing the second round. The event is now back on schedule after some players had to play 36 holes in one day. Nine players shot 65 or better as the players took advantage of soft conditions.
Defending champion Fredrik Jacobson shot even par to remain at nine under. He managed a round of even-par 70 and is tied for sixth place with five others. Jacobson led the event after 36 holes.
Three-time major winner Padraig Harrington (65), Matt Kuchar (66), Tim Clark (66), Charley Hoffman (67) and Claxton are also at nine under.
- AAP