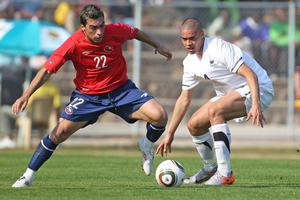 10/6/2010
Serengeti golf and wildlife estate
Johannesburg
It's not often the boys are buzzing at 8am (local time) but today was a little different. We flew an hour on a private flight to Nelspruit for our last friendly match against Chile, our first taste of football in South Africa.
Playing at the difficult time of 1.30pm meant a big breakfast was in order; as lunch was too close to kick-off. Lucky we did have that big breaky because the scheduled pre-match meal went missing.
We knew it was always going to be a good hit-out against a quick and nimble South American side, not something you want to do on an empty stomach. I don't think many of the vocal supporters, both local and South American, could tell though, as after a slightly slow start we began to play like a side that ate a five-course meal at Nelson Mandela's place.
The game was a taste of what's to come as we had to quickly learn how to play without talking, due to the unique sound of the vuvuzela.
There would not have been more than a hundred of them at the small stadium but the noise they created was quite deafening.
After cleaning out our ear drums (in the cold showers) it was back to base at the Serengeti. You'll be pleased to hear we had a visit from a hairdresser; you won't be as pleased to hear that the "Smeltz look" was the flavour of the night.
Not for myself, though, or for Ivan Vicelich, who is affectionately known as the Godfather. The Oceania player of the year won't let anyone near his long, dark locks. Congrats Godfather, an award you most definitely deserve.
MOSSY